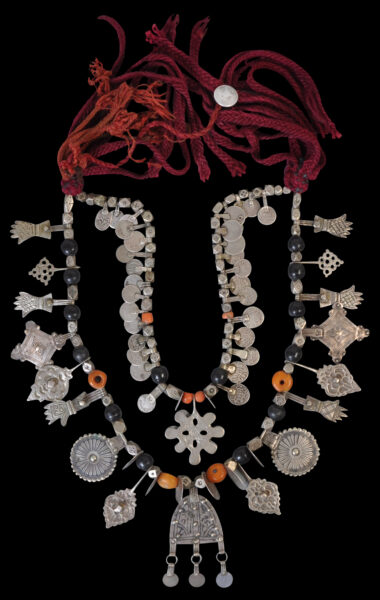 8771
Enquiry about object: 8771
Elaborate Moroccan Silver & Amber 'Treasure' Necklace
Draa Valley, Morocco early 20th century
circumference (of shorter chain): 44cm, weight: 535g
Provenance
formerly in the collection of Angela Fisher, author of 'Africa Adorned'.
This spectacular double-stranded necklace on its original plaited wool strands is from the Draa Valley of Morocco and comprises dozens of elements including silver coins, niello silver plaques, silver hands of Fatima, dozens of silver tetradecahedron beads, black glass trade beads, and natural amber beads.
One particularly appealing element in the necklace is that six coins in the lower section of the outer strand have been threaded vertically and as spacers for other elements in the necklace. Similarly, two silver plaques have also been threaded vertically in the upper strand.
Among the Moroccan silver coins that have been turned into pendants are 1 dirham coins dated AH1299 (1883) and struck under Sultan Moulay al-Hasan I, and 1 dirham coins dated AH1321 (1903) and struck under Sultan Abdelaziz.
Such necklaces typically comprise a wide variety of strung materials to which elements in silver are added. Many of the elements have talismanic properties. Such necklaces were added to over time as the owner's wealth grew and she could afford more elements. Accordingly, such necklaces were known as 'treasure necklaces'.
Accordingly, the elements of the necklace here vary in age – some of the amber beads are likely to be particularly old and be heirloom pieces.
A related example is illustrated in Draguet (2020, p. 399).
Examples as large and as complex as this example are almost impossible to find now. This example is wearable and looks spectacular when worn.
References
Draguet, M., Berber Memories: Women and Jewellery in Morocco, Mercatorfonds, 2020.
Salmona, P., et al, Juifs du Maroc: Photographies de Jean Besancenot 1934-1937, MAHJ, 2020.