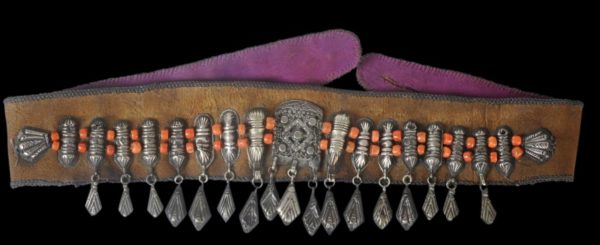 6472
Enquiry about object: 6472
Jewish Moroccan Headdress or Diadem (Taounza or Mechhob)
Western Anti-Atlas, Morocco 19th-early 20th century
length: 63cm, weight: 92g
Provenance
European art market
This diadem or forehead ornament would have been worn by a local Jewish bride in Morocco. It comprises a series of silver tubular plaques said to be modelled after the bodies of moths, and other plaques with pendant dangles. They are interspersed with fine, old coral beads. The plaques surround a central engraved and chased plaque which is an unusual and not a traditional element but probably reflects a pragmatic addition by a later generation.
The silver plaques are attached to a leather strap which is backed with crimson textile. The strap closes with a leather button mechanism.
Related examples are illustrated in Rabate (2015, p. 52) and Amel (1998, p. 272).
Such diadems were worn at important, ritual events such as weddings.
The example here is in fine condition with ample signs if age and use. It is likely that the silver elements were used several times over on different leather straps as the straps themselves wore out.
References
Amel, P., et al,  Splendeurs du Maroc, Musee Royal de l'Afrique Central, Belgium, 1998.
Goldenberg, A., Art and the Jews of Morocco, Somogy Editions, 2014.
Rabate, M., Bijoux du Maroc: Du Haut Atlas a la Vallee du Draa, ACR Edition, 2015.