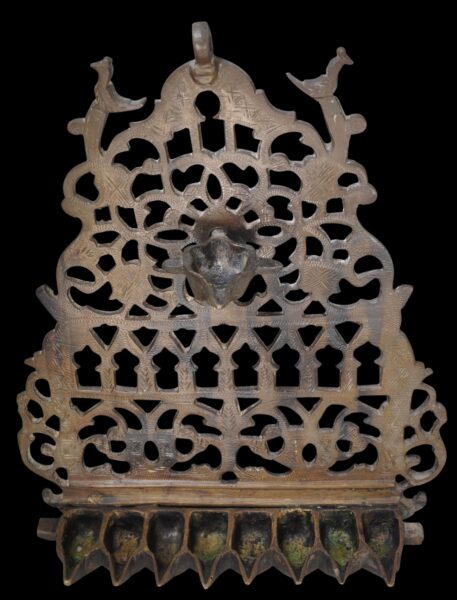 9183
Enquiry about object: 9183
Moroccan Jewish Cast Brass Hanukkah Lamp
Jewish Community, probably coastal Morocco 19th century
height: 29.2cm, width: 23.6cm, depth: 7cm, weight: 1,714g
This Hanukkah lamp, of heavy, cast brass, is from the Jewish community of northern Africa, most probably in Central Morocco, although similar lamps were used by the Jewish communities in Tunisia and Algeria.
It has been cast in two main sections – the lamp or cup tray and the Baroque-style, pierced backing plate which has been stamped with geometric patterns. The top has a central loop for suspension and on each side is a stylised bird, which is common among North African Hanukkah lamps. (The lamp tray and the backing plate are bolted together.)
The lamp has room for eight candles or wicks on the lower tray, and a ninth well which screws into the backing plate. This would have held the server or 'servant' candle (shamash) or wick used to light the other candles.
Like all North African Hanukkah lamps, this example was designed to be hung on the wall.
During the annual festival of Hanukkah (which means 'dedication' in Hebrew), one light is lit on the first night, and another is added each night until all eight lights are lit by the final night of the festival.
The earliest north African Jews probably came from ancient Israel and assimilated with local Berber customs. They were joined by other Jews from the Middle East and the Mediterranean after the Arab conquest in the 7th century. More arrived from Spain in the 14th and 15th centuries  after the persecutions there and finally their expulsion. Metalwork and jewellery making were among the specialties of Jewish craftsmen in north Africa serving their own communities plus local Arab and Berber communities.
Genuine Jewish Moroccan lamps are rare and much sought after; many recent copies abound. This fine example has vey clear age. It is an excellent example.
References
Braunstein, S., Luminous Art: Hanukkah Menorahs of the Jewish Museum, Yale University Press, 2004.
Goldenberg, A., Art and the Jews of Morocco, Somogy Editions, 2014.