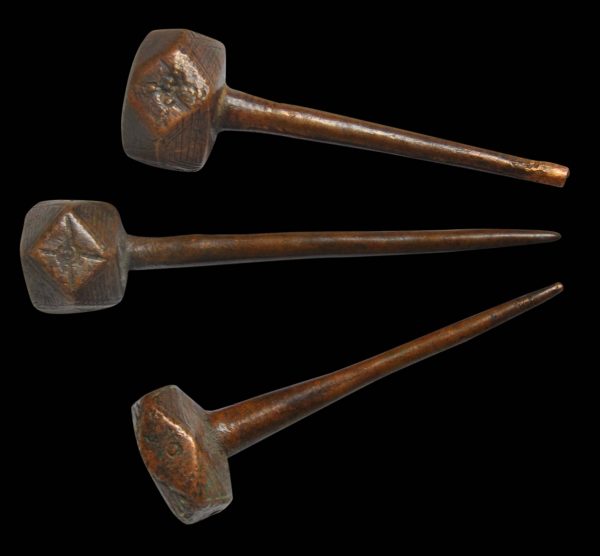 4196
Enquiry about object: 4196
Three Solid Copper Mossi African Hairpins
Mossi People, Burkina Faso 19th century
7.5-9cm
Provenance
Private collection, London.
These three hairpins are of cast and chiselled copper. The heads and posts are all of solid copper, and so are relatively. The head of each is a 14-sided polyhedron, variously engraved with lines and other patterns.
The hairpins are from the Mossi People of Burkina Faso (the Mossi account for almost 48% of Burkina Faso's population today).
It is possible that the pins also functioned as hatpins, being used to hold a headdress in place. It is also likely that they were worn by men.
Each has splendid wear and patina. The pointy end of one is blunted but otherwise the three are in fine condition.
References
Bartolomucci, A., African Currency, Editore Africa Art Gallery, 2012.
van Cutsem, A., A World of Head Ornaments: Africa, Asia Oceania, America, Skira, 2005.
Ginzberg, M., African Forms, Skira, 2000.