– scroll down to see further images –
This elegant, well proportioned brass spittoon is from seventeenth century Deccan or northern India and is based clearly on Chinese porcelain prototypes that date to as early as the tenth century (see Zebrowski (1997, p. 181) for an illustration of a Chinese porcelain example in the British Museum.)
It sits on a low, flared ring foot; is of baluster form; and has a wide, concave mouth. The foot, shoulder and rim (both the interior and exterior) are engraved with fine, concentric circles.
The bulbous body is engraved with several letters of devanagari script.
Such spittoons were used in conjunction with chewing betel or paan, the chewing of which produced much red-stained saliva which was best expelled from the mouth. Often they can be seen in early Mughal paintings, beside seated princely rulers, along with other accouterments associating with the taking of paan.
Such spittoons sat on a table or on a floor rug where the user was sitting, and were designed to be held in the hand when used.
This example is of a particularly early shape. A similar example currently is on display in London's Victoria & Albert Museum.
The example here is free of any splits, chips or repairs. The body has several slight dents, though these are not readily detectable and are commensurate with the item's significant age and use.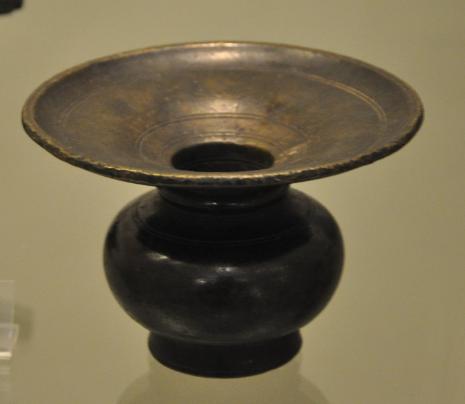 A very similar spittoon in London's Victoria & Albert Museum, attributed to 17th century Deccan.
References
Zebrowski, M., Gold, Silver & Bronze from Mughal India, Alexandria Press, 1997.