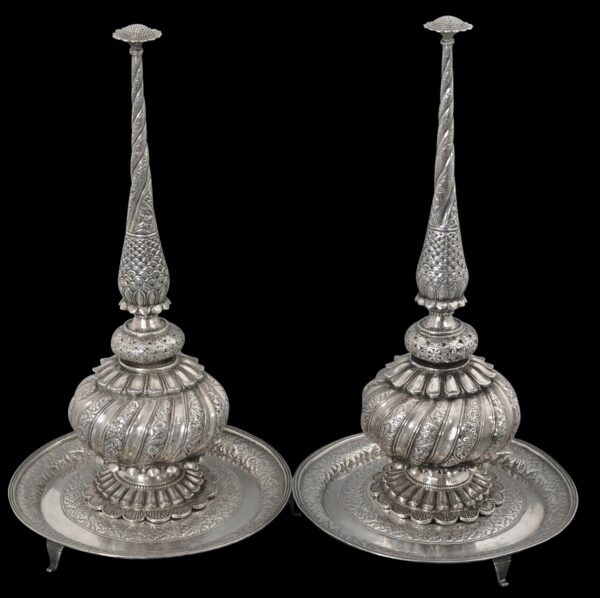 9249
Enquiry about object: 9249
Superb Pair of Mughal Silver Rosewater Sprinklers & Dishes
Mughal or Northern India 17th-18th century
overal height: approximately 30.5cm, diameter of dishes: 17cm, combined weight: 1,120g
This impressive and fine pair of silver rosewater sprinklers from Mughal or northern India is remarkable for the fact that they are a pair and have not become separated but also because they retain their original trays on which they stand. Their origins most probably are Indian but certain elements are reminiscent of Dutch colonial silver sprinklers produced in Batavia at around the same time. This underscores the cross-influences at the time across Asia which was a product of intra-Asia trade, and gift exchange between rulers and other powerful entities such as the French and Dutch East India Companies.
Each sprinkler has a lobed, reeded, flattened globular body; a baluster-form, tapering neck; a flower-head terminal with holes from which the scented water is emitted; and stands on a flared foot with a scalloped edge. The lower part of the necks are decorated with a motif either intended as a fish-scale or the scaly skin of a native fruit. The bodies are decorated with twisted, concave fluting which is alternatively chased with flower and leaf motifs and otherwise left plain.
Each tray or dish stands on three feet, has a convex interior on which the foot of the respective sprinkler sits perfectly, has an interior band engraved with floral and leafy scrollwork and an everted, reinforced rim similarly decorated.
The stem twists into the body via a screw thread that runs anti-clockwise (the reverse of most screwing mechanisms today but what was typical of Indian screwing mechanisms of the eighteenth century and before.)
Zebrowski (1997) dates a sprinkler with some similarities that is now in the Victoria & Albert Museum to the second quarter of the seventeenth century.  It bears the arms of William, second Earl of Desmond and third Earl of Denbigh, who lived from 1640 to 1685. According to Zebrowski, the first Earl of Denbigh had gone to India in 1631 and the sprinkler now in the V&A most probably was acquired by him.
A second related sprinkler is in the Virginia Museum of Fine Arts. It is illustrated in Dye (2001, p. 401) and ascribed to the second quarter of the seventeenth century.
Each sprinkler is marked once to the top of the foot with the French import mark for Paris 1819-1838 for 'large foreign articles' of at least 950 standard. It is likely that the sprinklers came to France via Pondicherry, its main concession port in India. The British took control of Pondicherry in 1793 after the Siege of Pondicherry, but it was returned to France in 1814. Shortly thereafter, the sprinklers were assayed in Paris during the brief period when such articles were marked in Paris.
The sprinklers and dishes are in very fine condition. Each sprinkler sits perfectly on its respective dish or tray. The contours of all have been rounded and softened from age, and all elements have a good weight for their size.
References
Dye, J.M., The Arts of India: Virginia Museum of Fine Arts, Philip Wilson Publishers, 2001.
Zebrowski, M., Gold, Silver & Bronze from Mughal India, Alexandria Press, 1997.