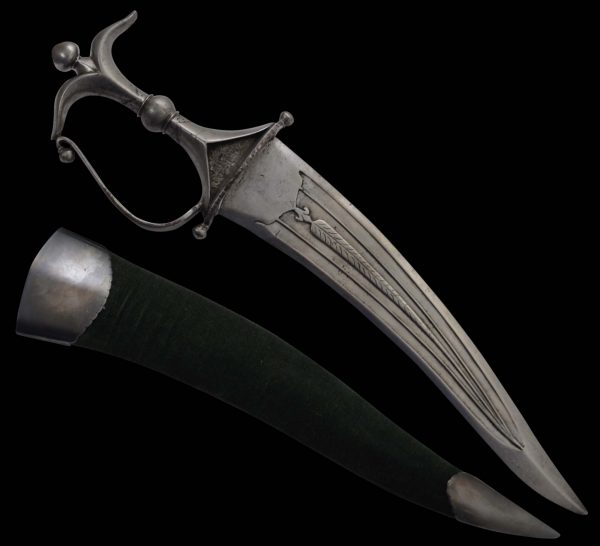 3203
Enquiry about object: 3203
Mughal Steel Dagger (Chilanum or Khanjarli)
North India 17th century
length (without scabbard): 37.2cm
Provenance
private collection; acquired from Simon Ray, London.
This chilanum (also spelt chillanum) or khanjarli dagger is made of all steel. It has a multi-fullered, double-edged, re-curving blade that is swollen at the tip and with a central, single palmette motif chiselled between the fullers (Alexander, 1992, p. 190 identifies a similar motif on a katar as a cypress tree). The hilt is of waisted form and incorporates a solid spherical knop in the middle of the grip with trefoil palmettes on either side, and a bud-like finial at the end of the bifurcated pommel. The disc guard has serrated edging and ball quillons.
This dagger relates to a group of daggers associated with northern and Mughal India of the seventeenth century. The form is elegant but austere, the decorative restraint allowing for a greater sculptural aesthetic and visual impact. See Hales (2013, p. 70) for some related examples.
The dagger has a later scabbard of wood, covered with dark green velvet and with white metal mounts.
References
Alexander, D., The Arts of War: Arms and Armour of the 7th to 19th centuries – The Nasser. D. Khalili Collection of Islamic Art, The Nour Foundation, 1992.
Hales, R., Islamic and Oriental Arms and Armour: A Lifetime's Passion, Robert Hale CI Ltd, 2013.