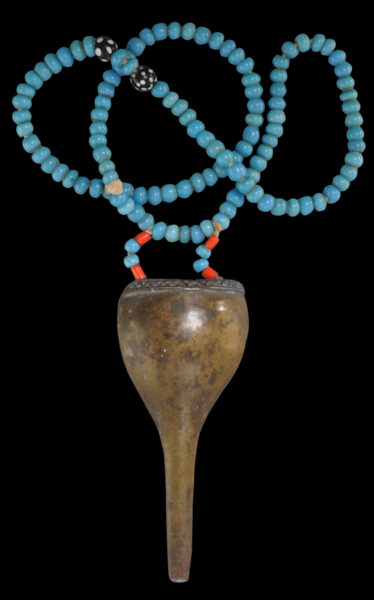 6779
Enquiry about object: 6779
Naga Blue Glass Bead & Brass Necklace
Konyak Naga People, Burma/India circa 1900
length of pendant: 14.5cm, width: 6.2cm, circumference: approximately 72cm
Provenance
private European collection
The necklace with a brass pendant is from the Konyak Naga people. The necklace comprises a strand of mostly blue glass trade beads, several orange-red glass 'barrel' beads, and two round polka-dot black beads known as 'skunk' beads.
Necklaces with fewer or just one strand typically were worn by men. Larger necklaces of multiple strands were worn by women.
The pendant or chest ornament is of cast brass and is in the form of a segment of conch or chank shell carved with a fish-tail terminal. The top has been decorated with a zig-zag border and two loops to allow suspension.
Such items were male prestige ornaments and might have been worn by warriors who had successfully taken heads.
See a related example in Jacobs (1990, p. 255).
The necklace and pendant here have a fine patina and obvious age. It is stable and wearable.
References
Borel, F., The Splendour of Ethnic Jewelry: From the Colette and Jean-Pierre Ghysels Collection, Thames & Hudson, 1994.
Daalder, T., Ethnic Jewellery and Adornment: Australia, Oceania, Asia, Africa, Ethnic Art Press/Macmillan, 2009.
Jacobs, J., The Nagas: Hill Peoples of Northeast India, Thames & Hudson, 1990.
Schmitt, K., 'The language of Naga ornament: Beads, Bones and Hornbill feathers', Arts of Asia, July-August 2004.