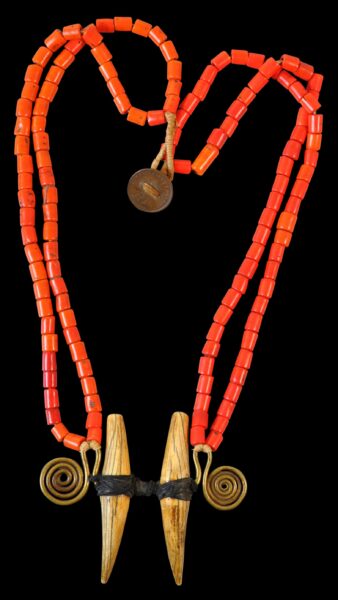 9303
Enquiry about object: 9303
Naga Warrior's Tiger Hunting Necklace
Naga People, Burma/India early 20th century or earlier
circumference: approximately 73cm, width of pendant: 11cm, length of boar teeth: approximately 9.1cm, weight: 207g
Provenance
private collection, US
This quite rare and iconic necklace of the Nagas is a type that was worn by the most celebrated and accomplished Naga hunters (of both tigers and men), and according to some sources, their sons.
The pendant component is of brass wire spirals and probably boar teeth carved to look like tiger teeth, wrapped with black string. The beads are red glass barrel trade beads.
Such warrior pendants of this form were always suspended from a beaded necklace that typically was coloured red.
The spirals are said to be emblematic of rebirth. The teeth-like elements indicate hunting prowess.
Examples are illustrated in Giehmann (2001, p. 116) and Jacobs (1990, p. 256-7).
The coin used for the necklace closure is a one quarter rupee issued by the British colonial authorities overseeing India and Burma. It is dated 1934 but the necklace could pre-date this.
The Naga comprise a series of related tribal groups concentrated in the border areas of north-eastern India and eastern Burma. They were attracted to rare goods that could be bartered from outside their region. Beaded necklaces were very popular as a show of finery but also as a portable means of displaying and carrying wealth. The components that went into making necklaces were regarded as currency items themselves. Beads and necklaces were accumulated as heirlooms and were passed as dowries and down through generations.
The necklace here is stable and wearable.
References
Borel, F., The Splendour of Ethnic Jewelry: From the Colette and Jean-Pierre Ghysels Collection, Thames & Hudson, 1994.
Geoffroy-Schneiter, B., Asian Jewellery: Ethnic Rings, Bracelets, Necklaces, Earrings, Belts, Head Ornaments, Skira, 2011.
Giehmann, M., Naga Treasures: Tribal Adornment from the Nagas – India and Myanmar, 2001.
Jacobs, J., The Nagas: Hill Peoples of Northeast India, Thames & Hudson, 1990.
Leurquin, A., A World of Necklaces: Africa, Asia, Oceania, America from the Ghysels Collection, Skira, 2003.