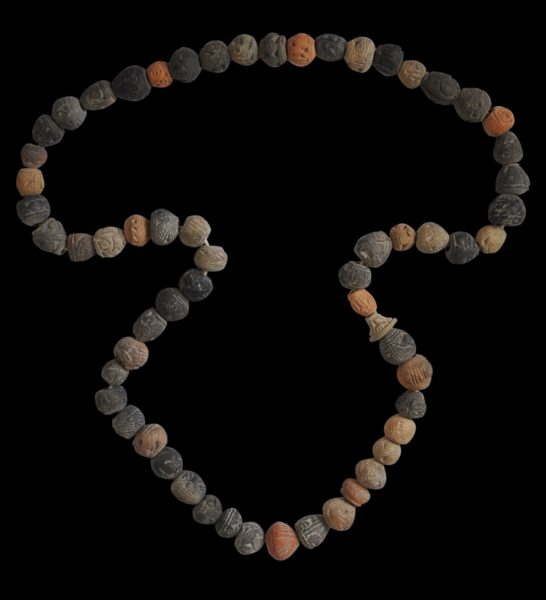 5653
Enquiry about object: 5653
Necklace of Manabi Terracotta Spindle Whorls
Pre-Colombian Manabi Culture, Ecuador 500BC-500AD
length: 68cm, weight: 104g
Provenance
Acquired in the UK, from the estate collection of Dr George Yuille Caldwell (1924-2016). Dr Caldwell, an English-born physician moved to Singapore in the 1950s, from where he built up a superb collection of ethnographica.
This astonishing necklace comprises 61 terracotta spindle whorls from the Manabi people of pre-Colombian Ecuador. All are in excellent condition, and each one unique.
Many and probably most are carved and impressed with stylised representations of birds.
The whorls vary in colour between yellow, orange and grey no doubt on account of differing clay types used in their manufacture. Most are spherical but others are bell-shaped and others are more elongated.
The whorls are without obvious damage or repairs. They have a smoothness and a hardened surface associated with use.
The whorls are threaded onto cotton twine and are stable and wearable.