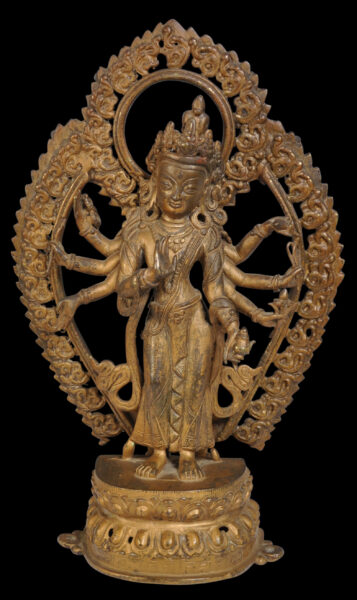 9084
Enquiry about object: 9084
Nepali Inscribed, Gilded Image of Vasudhara
Kathmandu Valley, Nepal dated Samvat 1042 (AD 1921)
height: 23.7cm, width: 15.6cm, depth: 6.1cm, weight: 1,202g
This gilded, cast bronze image is of Vasudhara, the main protective goddess of the Kathmandu Valley and a central deity among those Newars (the main people of the Kathmandu Valley) who follow Buddhism. She is also the goddess of prosperity, abundance and fertility, and a consort of the wealth-god Jambhala.
The image would have been commissioned for personal worship and for use on a household shrine. The base is inscribed in Newar script and is dated Samvat 1042 which approximates to 1921.
The image stands on a double lotus platform before a removable lobed flaming aureole. She has eight arms. The rear arms hold various attributes including some stalks of wheat which is one of the deity's attributes and one that links her to her associations with prosperity and fertility. Her lower left hand holds a vase of plenty. The images has an elaborate crown and ample jewellery as befitting a goddess of prosperity.
Followers of Vasudhara believe that her worship brings wealth and stability. Vasudhara worship is in decline now in the Kathmandu Valley. The majority of Newars are Hindus, but even then, the local version of Hinduism is a syncretic mix with Buddhism.
The image has some minor casting flaws to the base. Much of the gilding has worn away, as should be the case with ritual use. Overall, this is a pleasing and balanced image.
References
Macdonald, A.W. & A. Vergati Stahl, Newar Art, Aris & Phillips Ltd, 1979.