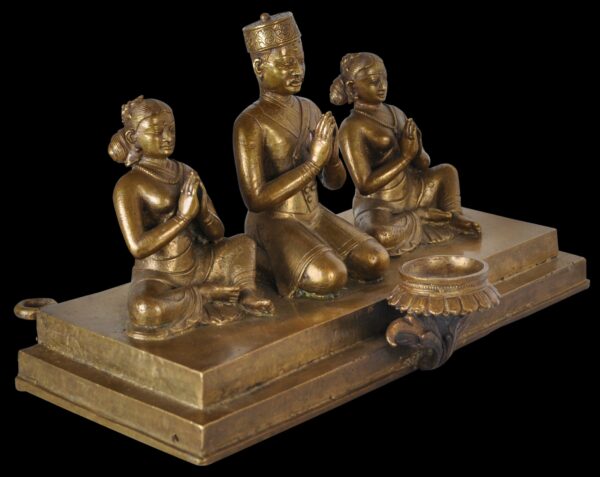 9188
Enquiry about object: 9188
Nepalese Inscribed Brass Lamp with Aristocratic Patron Devotee Figures
Kathmandu Valley, Nepal early 20th century
height: 15.3cm, width: 28.1cm, depth: approximately 17cm, weight: 2,602g
This  finely cast brass devotional oil lamp was commissioned and donated to a temple in the Kathmandu Valley almost certainly by an aristocratic donor. The casting work is typical of finer work that was done in Patan undertaken by Newari craftsmen.
The lamp shows a central, seated male figure in aristocratic Newar dress and a female relative on each side, all on a rectangular raised platform. Each has their hands in a devotional anjali mudra. Before them there is an open lotus bloom that supports a small oil pan.
The details of the figures is exceptional, The hairstyles of the two female devotees are especially beautifully done.
The image has a lengthy, three-line inscription engraved in local script on the reverse of the platform. Most likely this will give the name of the individual or family who commissioned the lamp.
The reverse of the platform also has two lugs which might have supported a decorative backing plate or was used to secure the lamp in place.
Overall, this is an excellent piece, stable, and finely cast.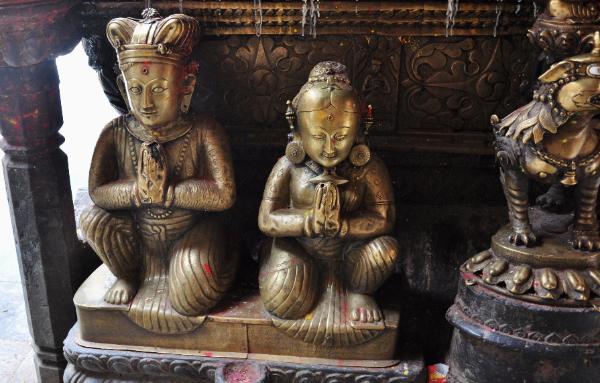 Husband-and-wife devotee figures in the Kwa Bahal (Golden Temple) complex, Patan, Nepal.
References
Gabriel, H., Jewelry of Nepal, Thames & Hudson, 1999.
Heller, A., 'Tibetan Buddhist Sculptures in the Robert H.N. Ho Family Foundation Gallery', in Orientations, May 2009.
Lanius, M.C. & R.Y. Otsuka, 'History of the Asian art collection at the Denver Art Museum', in Arts of Asia, January-February 2007.
Macdonald, A.W. & A. Vergati Stahl, Newar Art, Aris & Phillips Ltd, 1979.
Pal, P., Art of Nepal, Los Angeles County Museum of Art, 1985.