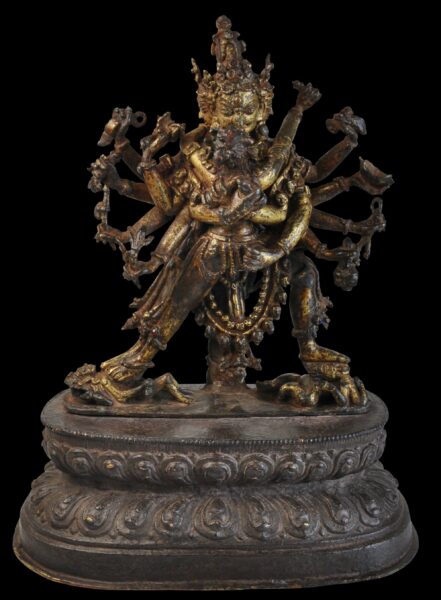 8977
Enquiry about object: 8977
Rare Nepalese Tantric Gilded Bronze of Samvara & his Consort Vajravilasini
Nepal 13th-14th century
height: 18.6cm, width: 14.7cm, depth: 7.4cm, weight: 1,003g
Provenance
private collection, UK
– scroll down to see further images –
In this superb, early gilded Nepalese bronze, Samvara (or Demchog in Tibetan, which means 'great bliss') and his consort Vajravilasini (Vajravahari) are depicted in close embrace. This tantric group is well modelled and exhibits finely modelled features; it is among a tiny group of such examples of early Nepalese art.
Early Nepalese examples of this type of tantric art are rare. Most are much later Tibetan examples. Indeed, the Hindu tantric art of Nepal is a rare and little understood type of sculpture compared with Buddhist tantras which are much better known. Buddhist tantric art tended to spread across the Buddhist world, whereas Hindu tantric art tended to stay in Nepal and so relatively few examples were produced as a consequence. Clients for such bronzes would have been restricted to a a small Hindu elite of royalty and priests largely confined to the Kathmandu Valley.
The four-headed form of Samvara dances in ardhaparyankasana and in ecstasy as he copulates with his consort, Vajravilasini. As he does, he tramples on two deities who lay beneath his feet – one (a four-armed Bhairava) lays prostrate with a foot distinctively placed on his rearing head; the other (a four-armed Kalaratri) lays on her back with a foot on his chest. He has twelve arms – the primary arms are in abhaya and varada mudras. The other ten radiate around him and hold a host of attributes including a bunch of decapitated heads, a skull cup, and so on.  Vajravilasini has her right leg wrapped around Samvara's waist. She holds attributes in her two hands.
Each face of Samvara, though wrathful, is gentle in character, and the principle face gazes directly into Vajravilasini's face. The gentler depiction is a contrast with (later) Tibetan versions in which the faces tend to be shown grimacing and evoking fear.
An elaborate skull and bone apron falls between the pair's legs.
The arms are well cast and well positioned – they radiate quite evenly.
The shins of Vajravilasini are inset with a blue and a red cabochon stone respectively.
A related image of similar age, but smaller, is illustrated in Heller (2008, p. 65).
The image he has been attached to a later (but still probably 15th century) double lotus base. The underside is engraved with a double vajra motif and the consecration for this is intact.
This attachment to a separate base is usual for similar Nepalese bronzes of this period, or indeed, there is no base at all (as in the case of the example illustrated in Heller (2008).
This is an excellent bronze, and rare given its early Nepalese provenance.
References
Heller, A., Early Himalayan Art, Ashmolean Museum, 2008.
Pal, P., Art of the Himalayas: Treasures from Nepal and Tibet, Hudson Hills Press, 1991.
Pal, P., Desire and Devotion: Art from India, Nepal, and Tibet in the John and Berthe Ford Collection, Philip Wilson Publishers, 2001.
Pal, P., Himalayas: An Aesthetic Adventure, The Art Institute of Chicago, 2004.