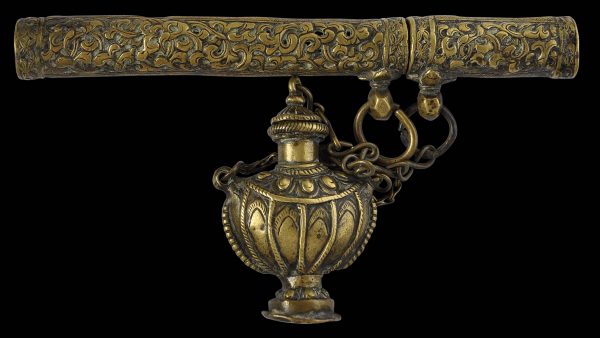 3611
Enquiry about object: 3611
Nepalese Cast Brass Pen Case & Attached Ink Well
Nepal 18th century
length: 19.8cm, height of the ink bottle: 8.5cm, weight: 361g
This traditional Nepali ink-well and associated pen case has been cast in brass using the lost wax process. The set is of typical form. The pen case features pierced floral decoration on one side and a dragon with a long, sinewy body that runs the length of the other side amid foliage.
The body and lid of the pen case are attached to the body and lid of the ink well by means of chains.
The ink well is of flattened, spherical form that is based on that of a kalasha or auspicious water vessel. The neck and foot are cast with a border of lotus petals in high relief. The flattened body has been cast with radiating ribs and has a domed stopper.
Shepherd Slusser & Fuller in their 1987 article on Nepali ink-wells and pen cases comment that their use died out 'decades' ago and that few Nepalis now either recognise them or know what they were for. Most probably, they were used by government officials and for the writing of religious texts. Possibly they were also used by the kayastha, a caste of professional scribes who wandered around accepting itinerant work from the general population the vast majority of whom would have been illiterate.
The set is heavy for its size and has an excellent patina and obvious age.
References
Shepherd Slusser, M., & M. Fuller, 'The Nepalese Ink-Well,' in Arts of Asia, July-August 1987.