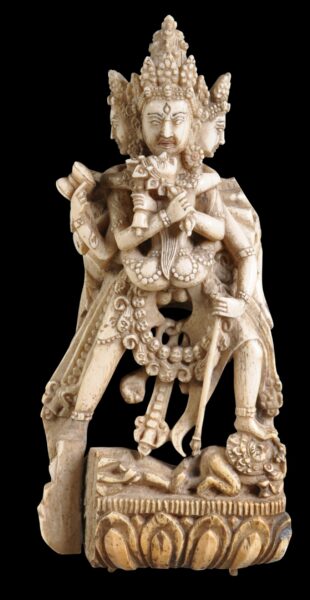 9093
Enquiry about object: 9093
Rare Nepalese Bone Statue of Chakrasamvara Sakti in Yab-Yum
Kathmandu Valley, Nepal 15th century
height: 14.4cm, width: 6.5cm, weight: 145g
Provenance
private collection, UK
Early bone sculpture from Nepal is rare on account of the nature of the material used.
In this very fine, early Tantric bone carving from Nepal, the twelve-armed, four-headed Samvara is shown with his consort Vajravahari in the so-called Yab-Yum or passionate embrace pose. The passionate aspect is unusually anatomically graphic in this instance.
Both Vajravahari's legs are wrapped around Samvara's waist. Two of Samvara's arms are wrapped around Vajravahari whilst also holding attributes – a bell (ghanta) and a thunderbolt (vajra) – in a gesture known as prajnalingana or 'embracing insight'.
Both are naked except for Samvara's hide cape and jewellery. and Vajravahari's jewellery. A long necklace of severed heads and skulls is among Samvara's jewels.
Both have the third eye on their foreheads.
The figures trample two Hindu deities – Bhairava and Kalaritri, the wrathful manifestations of Shiva and Parvati – who in this Buddhist context represent obstacles to Enlightenment.
All this occurs atop a lotus base.
The Chakrasamvara Tantra was maintained by the Newar Buddhist community in the Kathmandu valley, and by Tibetan Buddhists, both in Tibet and other areas influenced by Tibetan Buddhism. The central deity is Samvara, also known as Heruka. Chakrasamvara is the main mediation deity of the various Kagyu schools of Buddhism. Samvara's twelve arms and four heads are identifying characteristics.
Samvara's arms are now missing apart from the front two pairs. Plus there is some loss to the lotus platform and Samvara's right leg. Such losses are in keeping with the fragile nature of the material used and the significant age of the piece. What remains however is stable and robust.
The image is accompanied by an unobtrusive, custom-made stand.
References
van Alphen, J., et al, Cast for Eternity: Bronze Masterworks from India and the Himalayas in Belgian and Dutch Collections, Antwerp Ethnographic Museum, 2005.
Debreczeny, C., et al, Rubin Museum of Art, Collection Highlights: The Rubin Museum of Art, New York, Rubin Museum, 2014.
Heller, A., Early Himalayan Art, Ashmolean Museum, 2008.
Pal, P., Art of Nepal, Los Angeles County Museum of Art, 1985.
Pal, P., Himalayas: An Aesthetic Adventure, The Art Institute of Chicago, 2004.