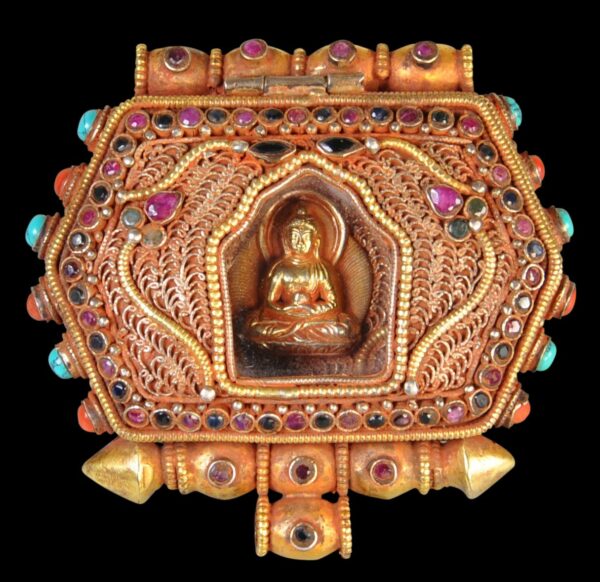 8562
Enquiry about object: 8562
Nepalese Gold & Gilt Amulet Box showing the Dhyani Buddha Amitabha, & set with Rubies & other Precious Stones
Nepal 19th-early 20th century
width: 8.2cm, length: 7.9cm, depth: 2cm, weight: 128g
This lozenge-shaped amulet box was designed to be worn from a chain around the neck, usually by royalty and other wealthy individuals. It comprises red-stained gold and gilt filigree work inset with faceted rubies, sapphires, emeralds, coral and turquoise. The lower section is decorated with an applied long dorje , to which a short hoop is attached. These are set with precious stones. The upper section has a long hoop to allow suspension. This too is similarly inset with stones.
The sides of the box are inset with alternating coral and turquoise cabochons in high box settings.
The centre of the hinged cover has a ga'u-shaped 'window' inset with thin glass probably imported from India and of a type that dates to the early 20th century or earlier. The window permits a view of the interior figure – a gilded Dhyani Buddha Amitabha, who is depicted cross-legged, with hands clasped on his lap in dhyana mudra and holding a begging bowl.
When the cover is opened, the interior is revealed and shows Amitabha surrounded by gilded filigree work with thicker pearled wires to denote lotus stems topped with gems to suggest blooms. An outer border is of rubies and emeralds. The interior sides of the box are further decorated with gilded filigree in a mountain form border.
The cover closes tightly and is kept closed with a pin mechanism.
The reverse is decorated with an applied gilded pearled wire Kalachakra mantra symbol topped with a single sapphire on a box setting. (The Kalachakra symbol is an interlocking monogram of the seven syllables ham ksha ma la va ra ya in Tibetan lantsa script.
The dating of these types of boxes is uncertain. The combination of filigree and inlaid stones is typical of Newar (the dominant ethnic group in the Kathmandu Valley) work that dates at least to before the 18th century, and was used extensively on large plaques commissioned to adorn both public and household shines (see for example an 18th-19th century shrine plaque in Bromberg, 2013, p. 200). This box can be seen as an extension of this type of work, and is likely to have been commissioned by a wealthy Nepalese.
Some Nepalese boxes of this type are quite late, but the better quality examples (such as the example here) appear to be earlier. See for example an example sold at Bonham's New York in 2016, which was given a 19th-20th century dating, and then there is an example in the Los Angeles County Museum of Art, which has been given a dating of 1800-1850. Other Bonhams examples are here and here.
The example here is particularly fine. It has good wear to the gilding, and is in excellent condition. The gems glitter and catch the light far more than suggested by the photographs here. It is a superb example.
References
Beer, R., The Encyclopedia of Tibetan Symbols and Motifs, Serindia, 2004.
Bromberg, A., et al., The Arts of India, Southeast Asia, and the Himalayas: At the Dallas Museum of Art, Yale University Press, 2013.
Casey Singer, J., Gold Jewelry from Tibet and Nepal, Thames & Hudson, 1996.
Clarke, J., Jewellery of Tibet and the Himalayas, V&A Publications, 2004.
Sakya, Jnan Bahadur, Short Description of Gods, Goddesses and Ritual Objects of Buddhism and Hinduism in Nepal, Handicraft Association of Nepal, 2000.