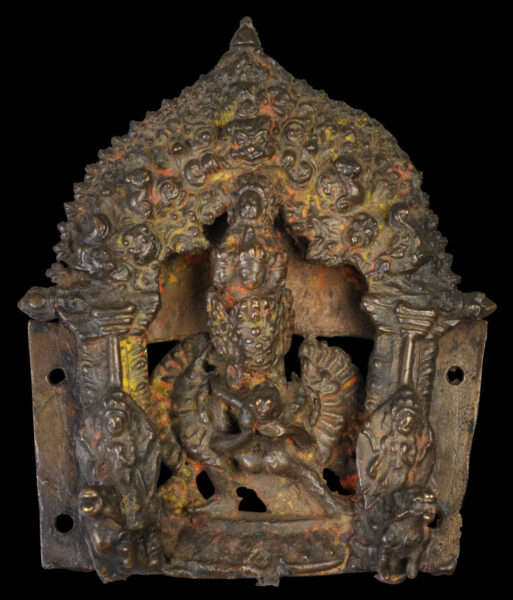 9043
Enquiry about object: 9043
Rare, Nepalese Cast Bronze Yab-Yum Group for Temple Niche
Kathmandu Valley, Nepal Late Malla Dynasty, 17th century
height: 13.7cm, width: 11.7cm, depth: approximately 3.6cm, weight: 557g
Provenance
from the private collection of a retired academic, London
This cast bronze image, which dates to the late Malla dynasty, of the 17th century, shows a deity with multiple arms and seven heads over three tiers – possibly Bhairava (a manifestation of Shiva) in yab-yum with Devi, beneath an arch cast with a protective kirtimukha mask and a pair of makara among other motifs, and with small deities with multiple arms on each side of the image – one is astride a tiger, the other is astride what might be a bull. This would confirm the Bhairava/Shiva-Devi identification. Shiva's mount is a bull and Devi's is a lion.
The Hindu tantric art of Nepal is a little understood area of sculpture, with tantric forms being more associated with Buddhism. The clients for Hindu tantric art were limited to a comparatively small Hindu Newar elite in the Kathmandu Valley – mostly members of the royal families and their priests. The tradition was sparse but relatively long lived (van Alphen et al, 2005, p. 126).
The plaque would have been attached to the interior of a niche in a temple in the Kathmandu Valley. Adherents would put tikka powder on a finger tip and bless it by touching it to the image and then they would apply the powder to the forehead. To that end, the image still retains remnants of such powder. The plaque has a frame at the rear drilled with holes to allow it to be secured to a wall.
The shrine-like structure that frames the group recalls architectural forms seen in the Kathmandu Valley, most particularly the elaborate arched torana pediments seen over the thresholds of temples and shrines.
The styling and composition of the image relates to one in the Los Angeles Country Museum of Art and illustrated in Pal (1985, p. 124).
The plaque comes with an attractive custom-made, black metal stand.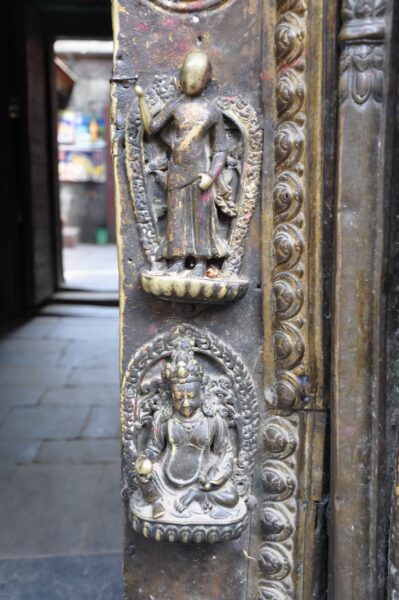 Above: metal images attached to the entrance to a shrine in the Kathmandu Valley
Scroll down for more images
References
van Alphen, J., et al, Cast for Eternity: Bronze Masterworks from India and the Himalayas in Belgian and Dutch Collections, Antwerp Ethnographic Museum, 2005.
Kerin, M.R., Artful Beneficence: Selections from the David R. Nalin Himalayan Art Collection, Rubin Museum of Art, 2009.
Pal, P., Art of Nepal, Los Angeles County Museum of Art, 1985.
Pal, P., Art of the Himalayas: Treasures from Nepal and Tibet, Hudson Hills Press, 1991.
Waldschmidt, E & R.L., Nepal: Art Treasures from the Himalayas, Elek Books, 1967.