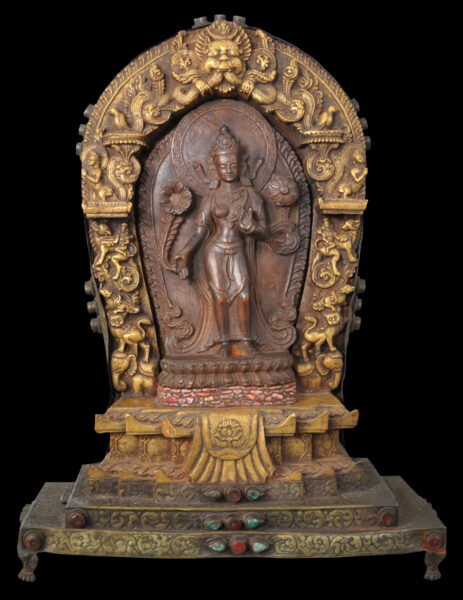 7032
Enquiry about object: 7032
Parcel-Gilt Copper Shrine of Padmapani Lokeswara Shrine set with Coral
Kathmandu Valley, Nepal circa 1850
height: 38cm, width: 28.4cm, depth: 14cm
– scroll down to see further images –
This fine shrine comprises a copper plaque of Padmapani Lokeswara standing on a double lotus base over a bed of coral, within a gilded frame and on a gilded platform, the frame and platform being set with coral and turquoise cabochons (some losses).
Padmapani Lokeswara is a manifestation of the bodhisattva Avalokiteshvara, the saviour deity of Mahayana Buddhism. Padmapani is part of a group of deities presided over by the Amitabha Buddha. The deity's colour is red and his symbol is the open lotus. An open lotus is seen in the central plaque on each side of Padmapani, and the deity stands on a wall of red coral, thus providing the viewer with the deity's colour and suggesting the identification of the deity.
The right hand is in the varada position (the gesture of generosity), while the left hand grasps the stem of the lotus. The lower torso, hips and legs follow this movement.
The face is serene and purposefully expressionless to convey inward calm.
Ample jewellery and other ornaments enhance the figure. There are necklaces, armlets, bracelets and earrings all with multiple gems.
The body is clothed from the waist to the ankles. Padmapani wears a tall, jewelled crown.
Padmapani is surrounded by an extravagant gilded nimbus of animals, mythical creatures and deities, all standing on a pair of elephants at the base. At the top, there is a magnificently rendered kirtimukha mask.
The reverse of the shrine is chased with lotus scrolling and a central double vajra.
The shrine stands of four short feet.
Traces of red sindhoor offering powder can be seen on the shrine.
The shrine has clear signs of age. The base has some age-related warping. A small detail on the base has broken away to reveal the vegetal resin used to fill the structure. But overall, the shrine is in a fine condition and has excellent patina.
References
Casey, J., et al, Divine Presence: Arts of India and the Himalayas, Casa Asia/5 Continents, 2003.
Kerin, M.R., Artful Beneficence: Selections from the David R. Nalin Himalayan Art Collection, Rubin Museum of Art, 2009.
Pal, P., Art of Nepal, Los Angeles County Museum of Art, 1985.
Waldschmidt, E & R.L., Nepal: Art Treasures from the Himalayas, Elek Books, 1967.