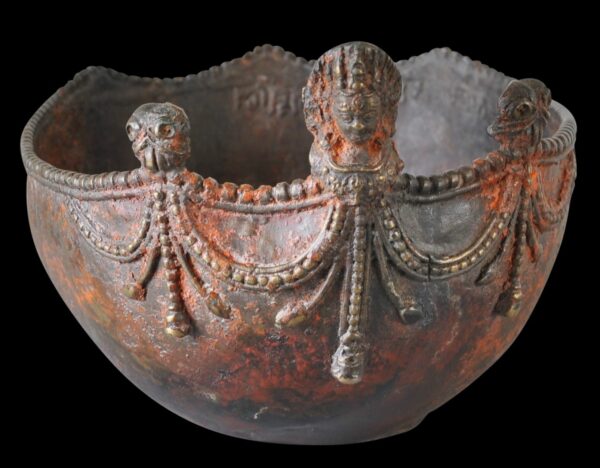 8512
Enquiry about object: 8512
Nepali Inscribed Ritual Bronze Skull Cup Kapala
Nepal 16th-17th century
length: 21cm, width: 16.3cm, weight: 789g
Provenance
Art market, Belgium
This fine cast bronze skull cup for offerings is based on the shape of the upper section of a human cranium. Such vessels were used in Nepal and Tibet as offering vessels. This example, used by Hindus in Nepal, sits on a low ring foot, and has a pearled bronze edge running around the top. The front section is decorated with three finials – two skull-like masks and a central figure most probably of Bhairava,  fierce manifestation of Shiva. Indeed, the skull cup itself might represent the skill of Brahma, which Bhairava traditionally holds. The finials are linked by jewelled garlands marked out in bronze that run between them.
A loop has been cast behind each finial 'head', perhaps to allow the vessel to be embellished with either a feather or a flower.
A long line of Newari script runs around one half of the cup.
Alcoholic beverages traditionally were given as offerings to Bhairava in Nepal, and it is possible that this kapala was intended to hold such offerings.
Bhairava is an important deity of the Newars, the ethnic group dominant in the Kathmandu Valley. Traditionally,  Newar villages and towns had at least one temple devoted to Bhairava, and most Bhairava temples in Nepal were maintained by Newar priests.
A related example attributed to the 16th century is illustrated in Pal (1997, p. 231).
The kapala here has a splendid patina with plenty of encrustation mixed with red-orange sindoor powder.
References
Bazin, N., et al, Nepal: Art de le Vallee de Katmandou, Musee National des Arts Asiatiques – Guimet, 2021.
Henss, M., Buddhist Ritual Art of Tibet: A Handbook on Ceremonial Objects and Ritual Furnishings in the Tibetan Temple, Arnoldsche, 2020.
Pal, P., A Collecting Odyssey: Indian, Himalayan, and Southeast Asian Art from the James and Marilynn Alsdorf Collection, The Art Institute of Chicago/Thames & Hudson, 1997.