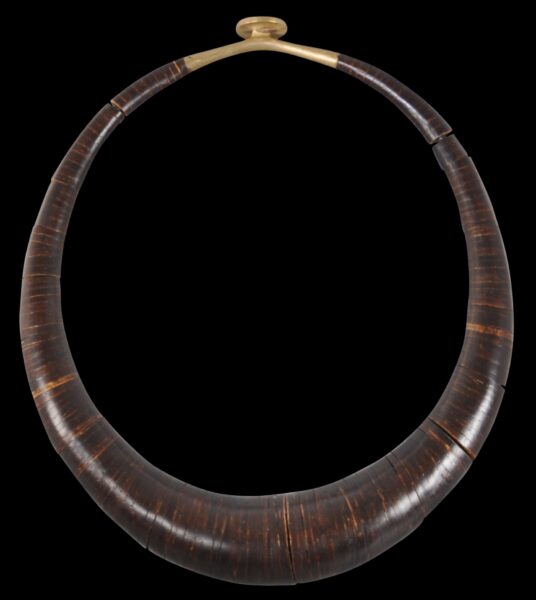 8624
Enquiry about object: 8624
Nias Headhunter's Torque Necklace (Kalabubu)
South Nias, Indonesia early 20th century
inner diameter: widest at 23.2cm, widest disk: 4.8cm, weight: 572g
This torque necklace called a kalabubu is made from highly polished, graduated disks of coconut shell strung tightly on a brass wire core. It has tapering ends and is fastened by a brass clasp with a decorative, flat button.
Such necklaces were worn by aristocratic men in southern Nias. They formed part of a Nias man's heirloom possessions and were prestige items. They were a declaration that the wearer had taken a human head from an outsider group and had brought it back to the village, thereby bringing creative and protective energy to the community. The heads were placed in the men's ceremonial house and also prominently displayed in the chief's house. Headhunting was associated with the nobility, masculinity and power.
South Nias society was very class stratified and dominated by noble families that by the late 19th century had gown very wealthy from slave trading.
Some of the coconut shell disks have shrunk with time, as might be expected and there is some looseness in how they arranged, but otherwise all is intact.
The torque is accompanied by a stand.
References
Feldman J.A. et al, Nias Tribal Treasures: Cosmic Reflections in Stone, Wood and Gold, Volkenkundig Museum Nusantara, Delft, 1990.
Rodgers, S., Power and Gold: Jewelry from Indonesia, Malaysia and the Philippines, The Barbier-Mueller Museum, Geneva, 3rd ed. 1995.