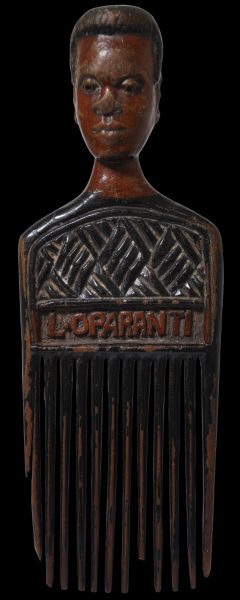 3894
Enquiry about object: 3894
Nigerian Carved & Painted Wooden Figurative Comb
Nigeria late 19th-early 20th century
length: 23cm, width: 8cm
This very interesting comb, carved from a single piece of wood, is topped with a well-carved head of an African male. The grip is carved in high-relief on both sides with cross-hatching and on the front with 'L. Oparanti'. This is likely to be an individual's name rather than a place name – it is a personal name among the Yoruba, and is possibly an aristocratic name. This name, and the styling suggest a Nigerian provenance, although similar combs carved with a head are known from elsewhere in Africa. (The Afrika Museum in Berg en Dal in the Netherlands for example has such a comb which it attributes to the Balule people of Cote d'Ivoire., and Chokwe combs often were carved with male heads.)
The comb is decorated with black and red paint and probably has been varnished or lacquered at the time of manufacture.
Combs were usually carved by men and often were presented as gifts.
There is some flaking to the paint and some shortening to some of the prongs, but otherwise it is in fine condition with real sings of age and wear from use. It is sculptural and unusual.
References
Ashton, A., 6,000 Years of African Combs, The Fitzwilliam Museum, Cambridge, 2013.
Grootaers, J. L. & I. Eisenburger, Forms of Wonderment: The History and Collections of the Afrika Museum, Volume 2, Berg en Dal, 2002.