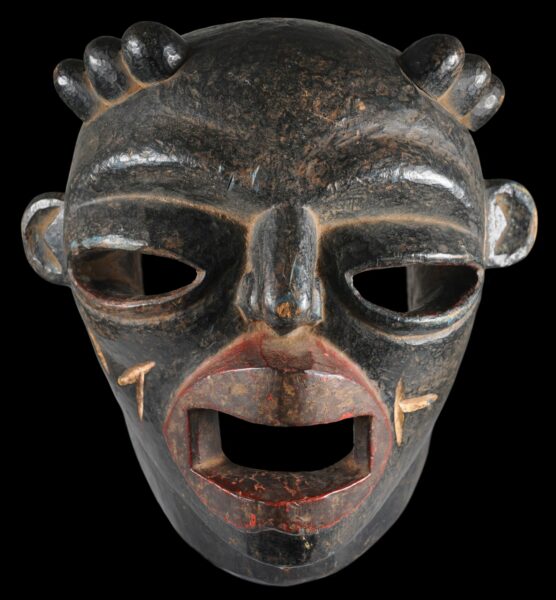 6642
Enquiry about object: 6642
Superb Nigerian Ibibio Carved Wooden Mask
Ibibio People, Cross River & adjacent regions, Nigeria 19th-early 20th century
height: 31cm, width: 29cm, depth: 19cm, weight: 1,104g
This large, powerful mask has a strong visual presence from its bold carving and superb patina. It would have been worn by a male performer, probably in an Ibibio Ekpo society ritual.
It has a full face, large oblong eyes, and a gaping mouth surrounded by massive lips. The ears are small in comparison and there is some ochre-filled scarrification. There are also two applied sets of three knobs on each side of the forehead.
The edge of the mask has been drilled with holes for the attachment of raffia.
The Ibibio people are a coastal people in southern Nigeria. They are mostly found in the Cross River, Akwa Ibom, and Eastern Abia regions.  They have their own Ibibio dialect. The Ibibio Union asked the British for recognition as a sovereign nation during the colonial period.
The cult of Ekpo was a significant religious-political structure that was a significant part of the broader traditional Ibibio political organisation. Mystical Ekpo ritual and ceremonies were an important element and masks were the most important accoutrement in the rituals.
Typically, Ekpo society masks distort the face in an almost cartoon-like way, over-emphasising certain features for example. Often this was based on actual disfigurement, possibly disease-related There were both male and female masks – the male masks were painted in dark colours and the female masks in light colours. Woven raffia was attached to the mask and the raffia was draped over the dancer's body.
For a related Ibibio mask, see lot 60, Sotheby's New York, 'Important Tribal Art', May 5, 1997. Another example was offered at Lempertz (Brussels), 'Art of Africa, the Pacific and the Americas', May 10, 2023, lot 82.
The mask is an excellent example and most probably came to the UK during the colonial era. It is in excellent condition, and has a deep lustrous patina. It can be readily suspended from a wall.
References
Sotheby's New York, 'Important Tribal Art', May 5, 1997.