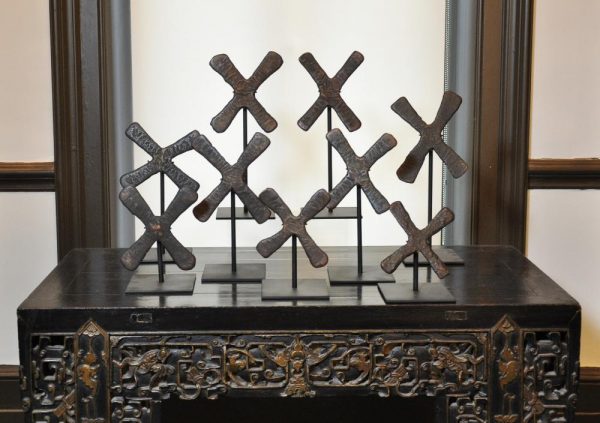 4462
Enquiry about object: 4462
Nine Copper 'X' Currency Crosses
Luba & Yeke People, Katanga Province, Congo 19th century
typical diameter of a cross: 22.5cm Note: Each of these has a custom-made stand - each can be sold separately, or as part of a group.
Provenance
private collection, UK
According to Bartolomucci (2012, p, 109), these crosses from the Luba and Yeke people of the Congo, were made of pure copper by pouring molten metal into a sand mould. (As a consequence, each is unique in terms of its precise shape, size and surface.)  The resultant 'X'-shaped crosses were used as a form of a currency and as a store of wealth.
Antecedents for this type of currency in the region stretch all the way back to the 11th and 14 centuries.
Such currency evolved in the region because of an abundance of a natural supply of copper ore in Katanga province.
The crosses were used to buy land, brides, slaves, livestock and goods.
Each of the examples here has a wonderful brown patina and is without damage. They are very sculptural particularly mounted on their individual stands.
Each slides into its custom-made which is of black metal stand.
The stands are in three different heights: 11cm, 14cm,and 23cm. As a group, the three heights allow the crosses to be arrayed almost as a 'forest'. As a group, or individually, they are very sculptural.
The final image below shows an example currently on display in London's British Museum, which the museum acquired in 1886 (inventory no. ethno 1886.10.19.1).
References
Bartolomucci, A., African Currency, Editore Africa Art Gallery, 2012.