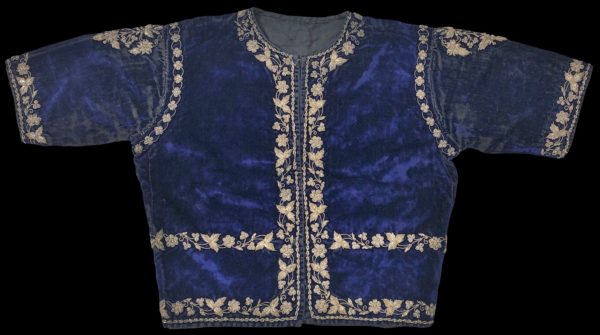 6001
Enquiry about object: 6001
North Indian Velvet Jacket with Fine Zardozi Embroidery
Northern India, possibly Lucknow, Uttar Pradesh 19th century
width across arms: 78cm, length: 40cm
Provenance
private collection, UK.
This sumptuous jacket, probably made for a young member of a royal court, is embroidered front and back over a deep blue velvet base with raised floral and leaf patterns in thick gold thread and gold spangles.
This type of work known in India as zardozi whereby raised gold embroidery was added to velvet, probably was introduced by the Portuguese. Many Indian royal houses commissioned zardozi embroiderers to embellish jackets, shoes, umbrellas and other articles with this work that were to be worn and used in the court. The zardozi embroiderers typically were Muslim men.
Small metal eyelets and hooks have been used in place of buttons to keep the jacket closed (several are missing.)
Garments decorated with zardozi work also were worn by Parsi (Parsee) people who were concentrated in Bombay. Indeed, this form of this jacket is similar to a navjote jacket, a type of jacket that a Parsi child would have worn at the navjote or coming-of-age ceremony.
A Lucknow provenance for this jacket is suggested by the fact that Lucknow was a centre for zardozi work in the 19th century and also the European-like grape-leaf motifs employed. The royal court in Lucknow was among the first in India to adopt many vestiges of European design.
The jacket has few losses. There is some wear to the velvet but no holes.
References
Dye, J.M., The Arts of India: Virginia Museum of Fine Arts, Philip Wilson Publishers, 2001.
Godrej, P.J. & F. Punthakey Mistree, A Zoroastrian Tapestry: Art, Religion & Culture, Mapin Publishing, 2002.
Pathak, A.,  Indian Costumes, Roli Books, 2008.