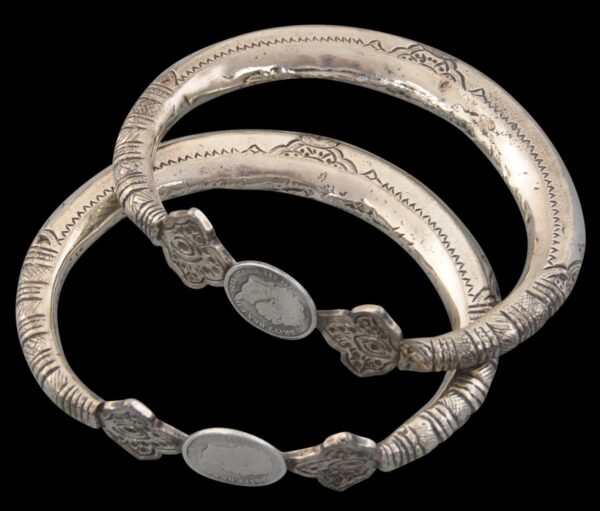 9010
Enquiry about object: 9010
Northern Indian Pair of Silver Anklets or Bracelets
Northern India, probably the Punjab early 19th century
internal width: approximately 9cm, width: 11.5cm, depth: 9cm, combined weight: 226g
This fine pair of hollow, silver anklets (or bracelets) is from northern India, most probably the Sikh areas of the Punjab or the Sindh.
The two arms of each terminate at the front with engraved trefoils joined by scarce George III British silver shillings dated 1816 and 1817 respectively.
The hoops have flattened sides, and are engraved with vegetal and fish motifs.
Small stones are encased in side so that the anklets rattle with movement.
They are in fine condition and have a wonderful patina and obvious age.
References
Geoffroy-Schneiter, B., Asian Jewellery: Ethnic Rings, Bracelets, Necklaces, Earrings, Belts, Head Ornaments, Skira, 2011.