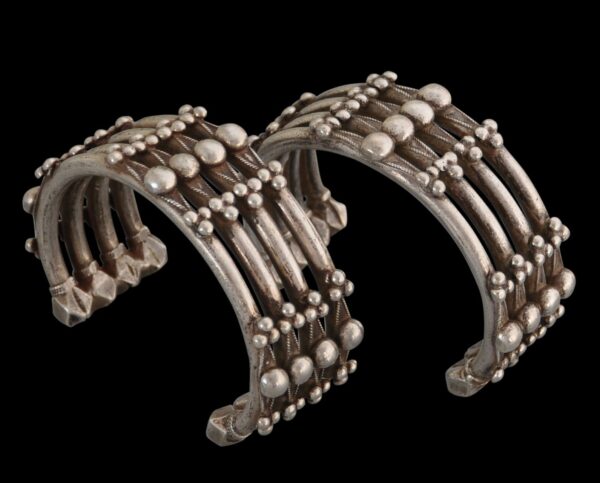 8772
Enquiry about object: 8772
Rare Pair of Nubian Silver Bracelets
Nubia region, Northern Sudan, Southern Egypt circa 1930
length: approximately 7.2cm, width: 2.4cm, combined weight: 242g
Provenance
private collection, UK
– scroll down to see further images –
This fine matched pair of silver bracelets is from the Nubian people who inhabit the Nile River region of Northern Sudan and Southern Egypt. According to van Cutsem (2002, p, 334) they were also worn by Rashaida women of Sudan, whose husbands would bring them back from Nubian areas in Egypt after profitable camel sales.
Each of the pair is constructed from four hollow tubes connected at the ends with squarish finials and with bands of fine wire and applied granulation work.
Nubian silversmiths tended to be ethnically Nubian and they would travel door-to-door offering to repair and make jewellery.
The bracelets are in excellent condition, have fine patinas and are wearable. It is rare to find a matched pair of these now.
References
van Cutsem, A., A World of Bracelets: Africa, Asia, Oceania, America, Skira, 2002.
Fahmy, A., Enchanted Jewelry of Egypt: The Traditional Art and Craft, The American University in Cairo Press, 2007.