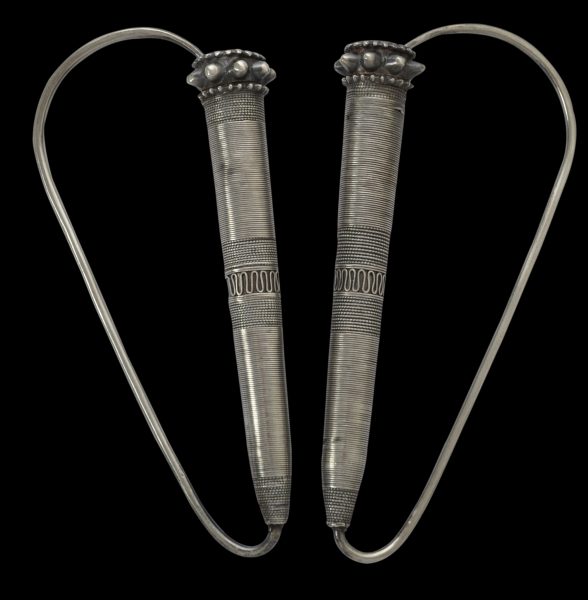 3983
Enquiry about object: 3983
Oman Silver Filigree Headdress Ornaments
Bedu People, Oman 19th century
length: 13.2cm, combined weight: 73g
Provenance
private collection, UK.
– scroll down to see further images –
This beautiful pair of head ornaments is of high grade, solid silver. Each comprises an elongated hollow cone decorated on the outside with silver filigree. The tops have borders of protruding spikes. Thick silver wire hoops emerge from the base and hook into the open tops of the cone. These open to allow the ornaments to be attached to a headdress.
This type of head ornamentation was worn by Bedu women in Oman and also in what is now the United Arab Emirates. They were worn in clusters, the number depending on the wealth of the woman.
Related examples are illustrated in Rajab (1998, p. 2).
The pair here have a splendid soften and patina from handling and age. There are very minor losses to some of the filigree and minor dents but these are consistent with age and wear.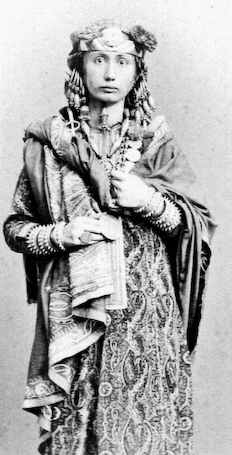 This image of the Omani-Zanzibari Princess Salme bint Sa'id appears to be wearing head/ear ornaments that are similar to the examples here.
References
Rajab, J.S., Silver Jewellery of Oman, Tareq Rajab Museum, 1998.