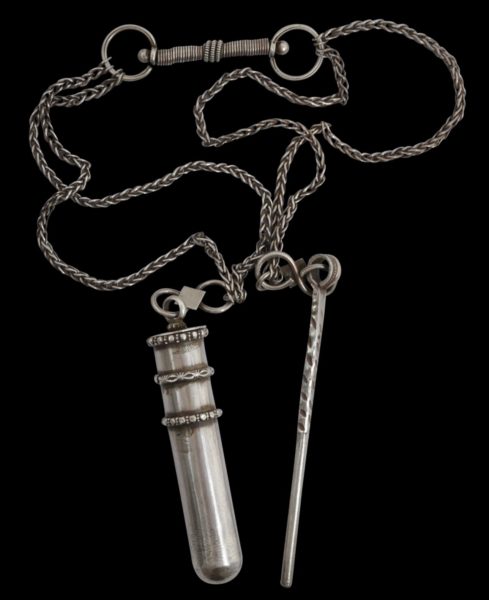 4005
Enquiry about object: 4005
Omani Man's Silver 'Bullet' Kohl Container
Bedouin People, Oman early 20th century
overall length: 67cm, length of kohl box: 9.3cm, weight: 89g
– scroll down to see further images –
Kohl – the cosmetic darkening agent used to blacken the area around the eyes – is used much by women in the Middle East and Northern Africa. But in some cultures of the area, men also use kohl.  Small, usually portable containers, are used to hold the kohl.
The example here was for an Omani Bedouin man.
But traditional and Islamic prohibitions on men wearing jewellery mean that the container has been shaped as a bullet cartridge to get around such prohibitions! (B0s, 2019).
The set comprises the cartridge-like holder, a screw-top lid, a long silver, double chain, and a long silver applicator or 'needle'.
The cartridge-like holder, though meant to be utilitarian and masculine, still has been decorated with bands of applied silver ribbing.
The chain is particularly complex and elaborate.
Related examples are illustrated in Bos (2019, p. 139), Hawley (2000, p. 52), Rajab (1998, p. 6), and Hawley (1977, p. 139).
The set here is in excellent condition.
References
Bos, J., Paint it Black: A Biography of Kohl Containers, BLKVLD, 2019.
Hawley, D., Oman & its Renaissance, Stacey International, 1977.
Hawley, R., Omani Silver, Longman, 1978.
Hawley, R., Silver: The Traditional Art of Oman, Stacey International, 2000.
Rajab, J.S., Silver Jewellery of Oman, Tareq Rajab Museum, 1998.