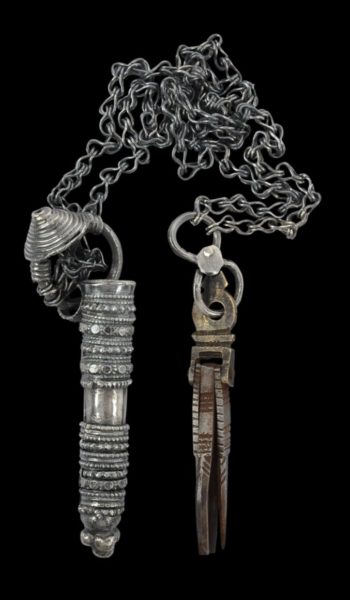 3975
Enquiry about object: 3975
Omani Man's Silver 'Bullet' Thorn Tweezer Box & Tweezers
Bedouin People, Oman early 20th century
overall length: 50cm, length of tweezers & box: 10cm, weight: 77g
Oman's interior is very dry and many of the plants and shrubs are covered with long thorns. As a consequence, many Bedouin Omani men carried tweezer sets – not to pluck their beards or eyebrows but to pluck out thorns from their feet and other parts of their bodies.
Traditional and Islamic prohibitions on men wearing jewellery mean that the set has been shaped as a bullet cartridge to get around such prohibitions!
The set comprises the cartridge-like holder, the iron tweezers, a long silver chain and a silver ring with a spiral cone top for affixing to a belt.
The cartridge-like holder, though meant to be utilitarian and masculine, still has been decorated with bands of applied silver ribbing and and applied granulation work at the tip arrayed in a formation said to be based on the mulberry.
Tweezers were necessary for many Bedouin men who lived in Oman's desert interior because of the large number of desert plants and shrubs that had thorns. The tweezers were used for extracting the thorns from the feet, legs and others parts of the body. (The final two images below, taken in January 2019, show examples of thorny shrubs outside Nizwa in Oman's desert interior.)
Related examples are illustrated in Hawley (2000, p. 52), Rajab (1998, p. 6), and Hawley (1977, p. 139).
The tweezer set is in fine condition with no losses and clear signs of age and use. The silver that has been used is solid and relatively high-grade.
References
Bos, J., Paint it Black: A Biography of Kohl Containers, BLKVLD, 2019.
Hawley, D., Oman & its Renaissance, Stacey International, 1977.
Hawley, R., Omani Silver, Longman, 1978.
Hawley, R., Silver: The Traditional Art of Oman, Stacey International, 2000.
Rajab, J.S., Silver Jewellery of Oman, Tareq Rajab Museum, 1998.