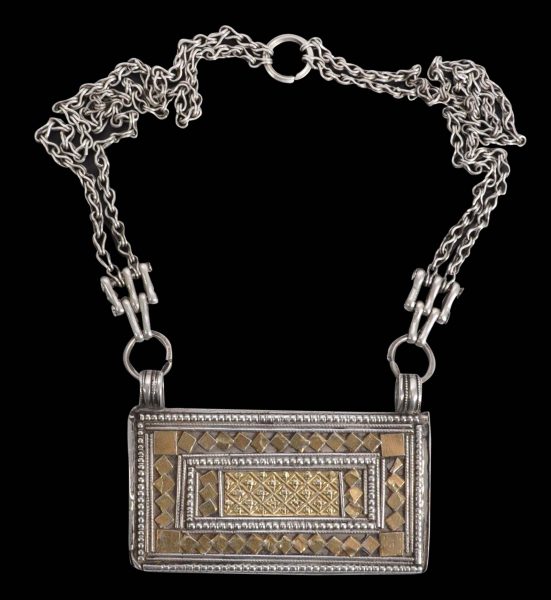 5247
Enquiry about object: 5247
Omani Silver Amulet Box (Hirz) & Necklace with Applied Gold Plaques
Nizwa, Oman circa 1900
length of necklace as worn: 37cm, length of box: 10cm, height of box: 6.7cm, thickness: 0.9cm, weight: 170g
This necklace and amulet box is made of particularly high-grade silver.
The box itself, which is known as a hirz, is further decorated by applied gold plaques.
It is from the Bedouin people of Oman, and probably was made in the interior city of Nizwa. This is suggested by the use of gold plaques.
The amulet box appears to be sealed shut but probably contains slips of paper inscribed with protective Koran verses.
The silver chain is of unusually high quality. It is double stranded with elaborate, heavy-gauge fixers and loops which attach the chain to the eyelets of the box.
Related examples are illustrated in Geoffroy-Schneiter (2011, p. 36), Hoek (2004, p. 54), Borel (1994, p. 119), Rajab (1998, p. 41) and Hawley (2000, p. 41).
The example here is in excellent condition and is stable and wearable.
References
Borel, F., The Splendour of Ethnic Jewelry: From the Colette and Jean-Pierre Ghysels Collection, Thames & Hudson, 1994.
Geoffroy-Schneiter, B., Asian Jewellery: Ethnic Rings, Bracelets, Necklaces, Earrings, Belts, Head Ornaments, Skira, 2011.
Hawley, R., Omani Silver, Longman, 1978.
Hawley, R., Silver: The Traditional Art of Oman, Stacey International, 2000.
Hoek, C., et al, Ethnic Jewellery: From Africa, Asia and Pacific Islands, Pepin Press, 2004.
Rajab, J.S., Silver Jewellery of Oman, Tareq Rajab Museum, 1998.