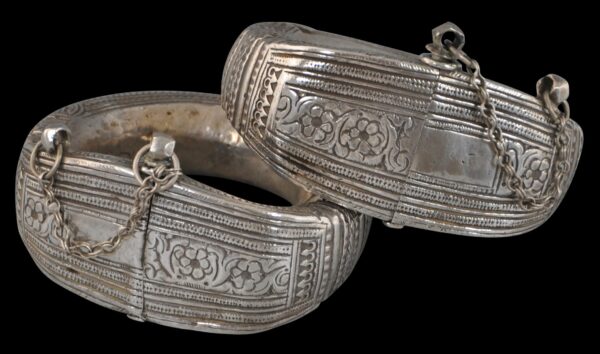 8939
Enquiry about object: 8939
Pair of Omani Silver Anklets
Sur, Oman early 20th century
inner diameter: widest at 6cm, weight: 479g
Provenance
private collection, UK
This pair of hollow silver anklets is of a type typically attributed to the coastal shipbuilding Omani town of Sur, which had close commercial and migratory links to Zanzibar and the rest of Africa's Swahili Coast.
Each opens on a hinge when the central bolt with its faceted finial, is removed. (The bolts pull out rather than screw out, and are attached to their respective anklets by means of a silver chain.) They are decorated with punch decoration, chasing and engraving work.
The fronts or bezels are more narrow than is usual – this is typical of anklets with a Sur provenance. Also, one side of the bezel has a cartouche that has been left plain. The other, plus the surrounding borders, is decorated with bands of geometric motifs. The shoulders are decorated with engraved geometric patterns.
The backs have been left plain, but within decorated borders.
Anklets related to these were worn by women in Gujarat and also exported to Oman and Zanzibar, and from Zanzibar they travelled into continental Africa for use by local women and expatriate Indian women. Local silversmiths copied the style in Oman and with minor motif changes developed their own examples, such as the pair here.
Related examples are illustrated in Rajab (1998, p. 31) and Forster (1998, p. 74).
The pair are in fine condition. They have a lovely, waxy patina, and no losses or repairs.
References
Evliyazade Camcigil, O., Eastern Treasures: Ottoman, Oman, Yemen, Turkmen Silver Jewellery, Gilgamesh Publishing, 2017.
Forster, A., Disappearing Treasures of Oman, Archway Books, 1998.
Ginzberg, M., African Forms, Skira, 2000.
Hawley, R., Omani Silver, Longman, 1978.
Hawley, R., Silver: The Traditional Art of Oman, Stacey International, 2000.
Rajab, J.S., Silver Jewellery of Oman, Tareq Rajab Museum, 1998.
Utracht, O., Traditional Jewelry of India, Thames & Hudson, 1997.