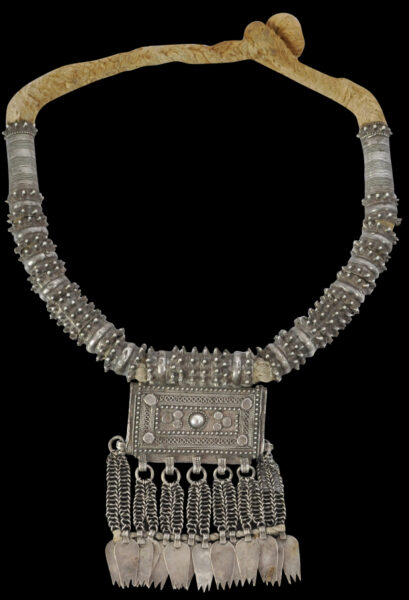 5427
Enquiry about object: 5427
Omani Silver Hirz Necklace
Oman circa 1900
circumference: 64.5cm, width of amulet: 7cm, weight: 312g
– scroll down to see further images –
This beautiful necklace and amulet box is from the Bedouin people of Oman.
The box itself, which is known as a hirz, is of silver. It is decorated with applied filigree and granulation work on the front. It is plain on the reverse.
The box has seven thick, well-made double-silver chains suspended from it and each of these terminates with a hand-like plaque, probably a stylised protective 'Hand of Fatima'. In turn, these are all kept spaced apart by being threaded with cotton cord.
The box is fully enclosed but probably contains slips of paper inscribed with protective Koran verses.
The necklace comprises a thick, twisted cotton cord clad for the most part with thick silver beads decorated with granulation work and rows of silver spikes – an allusion to the thorns commonly encountered in the Omani desert.
The example here is in excellent condition and is stable and wearable. It has a very good patina and clear and obvious age.
References
Al-Jadir, S., Arab & Islamic Silver, Stacey International, 1981.
Borel, F., The Splendour of Ethnic Jewelry: From the Colette and Jean-Pierre Ghysels Collection, Thames & Hudson, 1994.
Geoffroy-Schneiter, B., Asian Jewellery: Ethnic Rings, Bracelets, Necklaces, Earrings, Belts, Head Ornaments, Skira, 2011.
Harrigan, P., 'Tales of a Thaler', Saudi Aramco World, January/February 2003.
Hawley, R., Omani Silver, Longman, 1978.
Hawley, R., Silver: The Traditional Art of Oman, Stacey International, 2000.
Hoek, C., et al, Ethnic Jewellery: From Africa, Asia and Pacific Islands, Pepin Press, 2004.