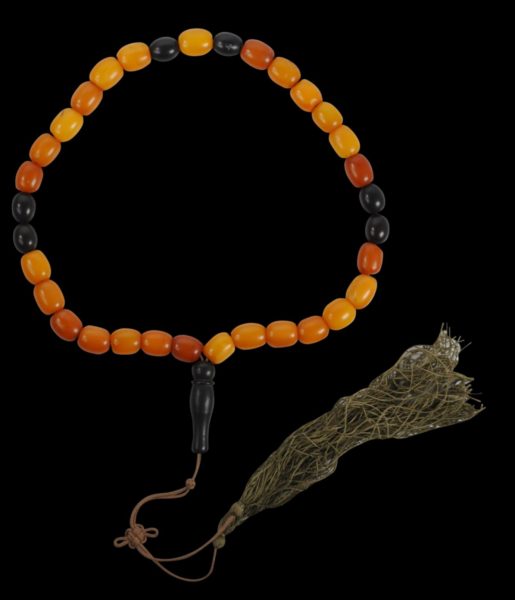 6201
Enquiry about object: 6201
Ottoman Butterscotch Amber Hand-Rosary (Misbaha)
Ottoman Turkey early 20th century
length of amber bead component: 42cm, weight: 36g
This fine set of Islamic hand-rosary prayer beads is of barrel-shaped egg yolk or butterscotch coloured amber beads. The amber possibly has been sourced from the Baltic. The dark beads are likely to be old Dutch glass trade beads.
In all, there are 33 beads. They are threaded onto a silk cord with a Chinese-style knot and tassels.
Islamic prayer beads are known as misbaha, tasbih or sibha and they contain either 99 beads (this number corresponds to the 99 names of God which are mentioned during the prayer that praises and glorifies god or Allah) or 33 beads. Use of a misbaha to count prayers and recitations is considered acceptable practice within mainstream Islam, by both Sunni and Shia adherents. Some minority sects do shun them however.
The beads are all in good condition. They have a fine patina and some wear is evidenced. Some of the beads have grain and what appear to be inclusions.
References
Allen, Jamey D., pers. comm., December 2019.
Seiwert, W.D., Jewellery from the Orient: Treasures from the Bir Collection, Arnoldsche Art Publishers, 2009.