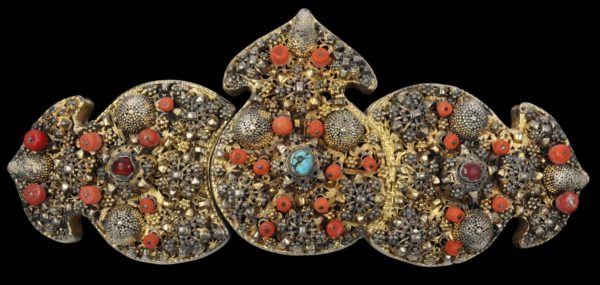 6026
Enquiry about object: 6026
Ottoman Balkans or Armenian Gilded Belt Buckle set with Coral & Turquoise
Ottoman Balkans 18th-19th century
length: 21cm, height: 9cm, weight: 343g
This belt buckle is very much in Ottoman and Ottoman Greek form, a style that also was worn in the Ottoman Balkans and also Armenia. Ottoman empire rulers and warriors wore belts and elaborate, over-sized buckles as symbols of their power and rank. The fashion for such ostentatious belts was largely over by the mid-19th century.
However, it is unusual and notable for the amount of applied coral beads and the manner in which they have been applied. Typically, stones and coral are applied to such belts by fixing them into firm box settings but the coral here has been attached by silver rods or wires allowing them to tremble as the buckle moves. This method of attachment is reminiscent of Tibetan and Nepalese work. The use of a central turquoise cabochon also is unusual and also is suggestive of Himalayan influence. Perhaps the artisan responsible might have seen some Himalayan work brought back from northern India or Nepal and was influenced by that.
Formed as two pierced, circular bosses of slightly domed form and infilled with gilded (gold-plated) silver filigree and chased strap work, each half of the buckle is further decorated with a raised central roundel, and surrounding applied filigree spangles.
A central roundel that hides the latch mechanism is similarly decorated. It has a crest finial.
The buckle is decorative and in fine condition. There are no losses to the applied stones, merely age related wear to the gilding. There are no obvious maker's or assay marks.
References
Koc, A., et al, Istanbul: The City and the Sultan, Nieuwe Kerk, 2007.