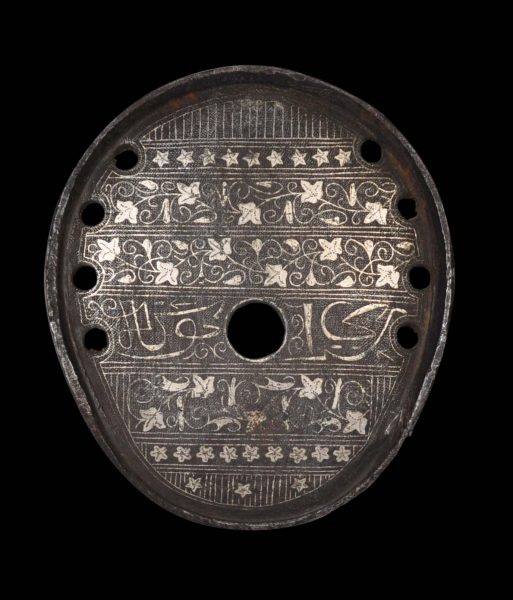 5795
Enquiry about object: 5795
Ottoman Balkans Silver-Inlaid Iron Horseshoe
Ottoman Balkans 19th Century
length: 11.2cm, width: 9.8cm, weight: 268g
Provenance
private collection, UK.
– scroll down to see further images –
This Ottoman silver-inlaid iron horseshoe is from the Balkans and dates to the 19th century. Other known examples are inscribed with the name of Sarajevo, which is now the capital and largest city of what is now Bosnia and Herzegovina. It is likely that this example might also have its origins in Ottoman Sarajevo.
It is of irregular oval shape. The lower third curves inwards. The shoe is of thick, heavy-gauge metal and has eight holes to allow it to be nailed to the hoof of a horse around a central larger hole.
It is decorated with bands of fine floral, geometric and cursive Arabic inscriptions, all in silver inlay.
A similar example was offered at Bonhams London as lot 101 in their 'Islamic & Indian Art' sale of April 2, 2009.
The example here is in excellent condition.
References
Rogers, J.M., The Arts of Islam: Treasures from the Nasser D. Khalili Collection, Art Gallery of New South Wales, 2007.