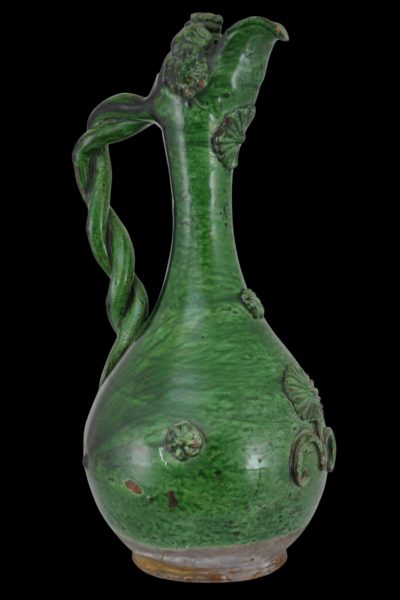 6633
Enquiry about object: 6633
Ottoman Canakkale Pottery Ewer with Olive-Green Glaze
Canakkale, north-western Turkey 19th century
height: 38cm, weight: 1,779g
This tall, elegant pottery ewer with its rich, olive-green glaze is from Canakkale in north-western (Ottoman) Turkey.
It has an an elongated bulbous body; a braided handle; a long, tapering neck; and applied floral sprays. The mouth also has been potted with a sieve with three holes.
The form seems based on an ashure ewer. Ashure is a thick Turkish dessert porridge made from variants of milled wheat, rice, beans, chick peas, sugar, dried fruits, and nuts, and so is referred to as an Ashurelik.  Ashure contains no animal products and traditionally was consumed following the days of fasting, coinciding with the commemoration of the Battle of Karbala, in which Hussein ibn Ali and his followers were killed. (In modern Turkey, ashure is consumed all year round now.)
Canakkale is a town located in north-western Turkey  and was the site of an Ottoman fortress.  From the late 17th century it also became known for its fine-glazed pottery, which became known as Canakkale pottery, which was supplied to the rest of Turkey.
The ewer is in fine condition without repairs of any significant loss. It is very decorative and sculptural.