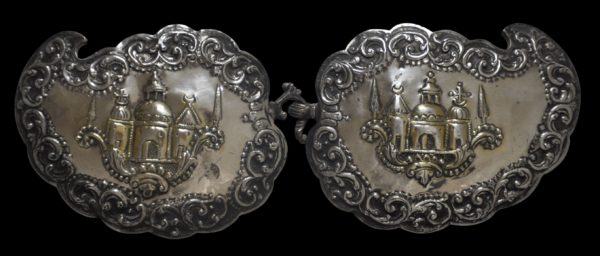 6463
Enquiry about object: 6463
Ottoman-style Greek Gilded, Embossed Silver Buckle
Ottoman Greece 19th century
length: 23cm, width: 8.1cm, weight: 130g
This two-part man's buckle, held together by a central clasp, is of high-grade silver with remnants of gilding (gold plating).
Each of the two parts is of Islamic-inspired boteh-form and has crenulated edges, a scrolling rococo-like border and a central panel depicting an Orthodox Christian basilica.
The reverse is fitted with silver bands to allow the buckle to be fixed to a cloth belt.
A related example is illustrated in Kaplani (1997, p. 142).
The form of buckles such as this originated in Ottoman Turkey.
The example here is in fine condition.
References
Kaplani, Y., Modern Greek Silverware: From the Collections of the Museum of Greek Folk Art, Archaeological Greek Fund, 1997.