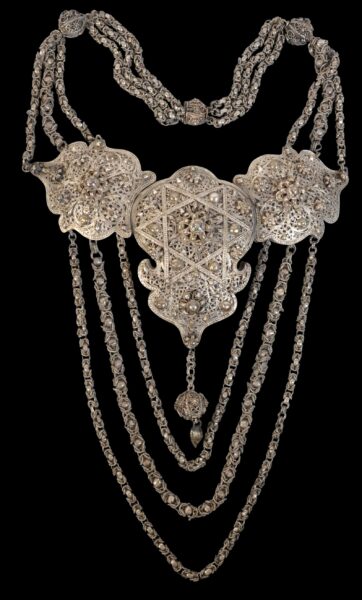 5731
Enquiry about object: 5731
Ottoman Silver Filigree Waist Buckle & Silver Chain Necklace
Ottoman Turkey & Balkans 19th century
circumference: approximately 55cm, weight: 353g
This fine silver waist buckle and associated chains is very much in the Ottoman style. Ottoman empire rulers and warriors wore belts and elaborate, over-sized buckles as symbols of their power and rank. The fashion for such ostentatious belts was largely over by the mid-19th century.
The buckle is formed from three separate panels of fine, silver filigree curls within stiff silver borders and decorated with raised bosses and a central dramatic star motif.
It retains all the chains of the belt and these appear to have been re-arranged to allow the buckle and chain ensemble to now be worn as a particularly extravagant necklace. The chains have remarkably complex construction.
A related example of a buckle is illustrated in Borel (1994, p. 120).
The ensemble is of high-grade silver and in very fine condition.
We are unaware of other examples, published or otherwise, with such an array of attached silver chains.
References
Borel, F., The Splendour of Ethnic Jewelry: From the Colette and Jean-Pierre Ghysels Collection, Thames & Hudson, 1994.
Koc, A., et al, Istanbul: The City and the Sultan, Nieuwe Kerk, 2007.
Kurkman, G., Ottoman Silver Marks, Mathusalem Publications, 1996.