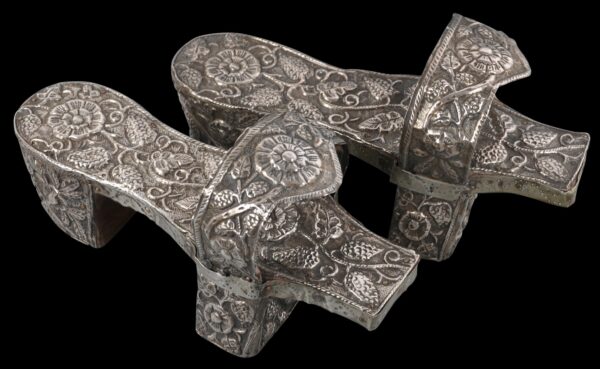 9282
Enquiry about object: 9282
Ottoman Woman's Embossed, Silver-Clad Hammam Clogs (Qabqab)
Ottoman Turkey 19th century
length: 22.8cm, width: 8.3cm, height (including strap): 11.3cm, combined weight: 643g
This pair of woman's clogs (qabqab or nalin) were worn by high-class women in the Ottoman world, generally in the hammam or bath house.
Each comprises two high platforms, a sole, and a raised upper strap of silver sheet over a leather substrate. The entire upper sections are clad in silver sheet embossed with bunches of either mulberries or grapes and  flowers and leaves – motifs traditionally associated with plenty and prosperity.
Each is carved from a single piece of wood and decorated with solid silver sheet secured with small pins and white metal bands around the sides to further keep the silver cladding in place.
Such clogs were designed for a wealthy woman so that when worn she would be elevated above a wet and dirty floor. Walking, however, required the assistance of an attendant, and the higher the clogs, then the more attendants who would be needed, so high clogs became status symbols. Their Arabic name – qabqab – derives from the sound they made when they were being used as the wearer plodded across a wet but hard floor.
See Kok (2007, p. 76) for a related pair clad in silver that is in Istanbul's Sadberk Hanim Museum.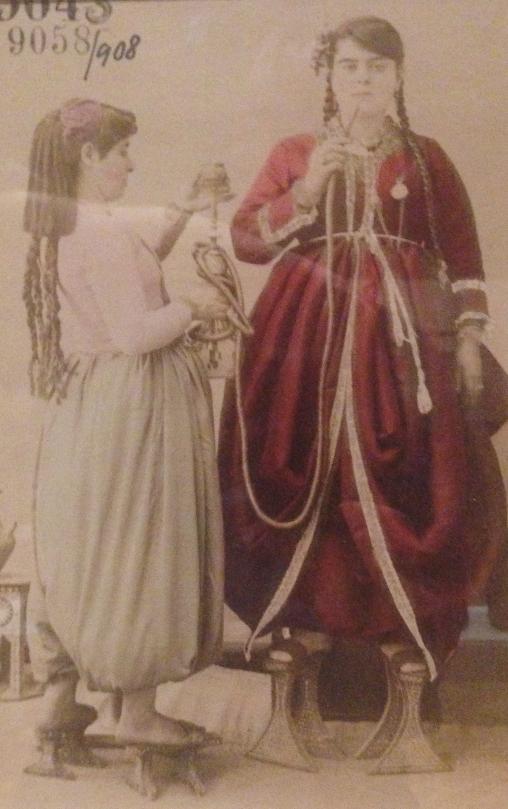 Above: Two woman in the Ottoman Balkans wearing qabqab.
References
Koc, A., et al,  Istanbul: The City and the Sultan, Nieuwe Kerk, 2007.