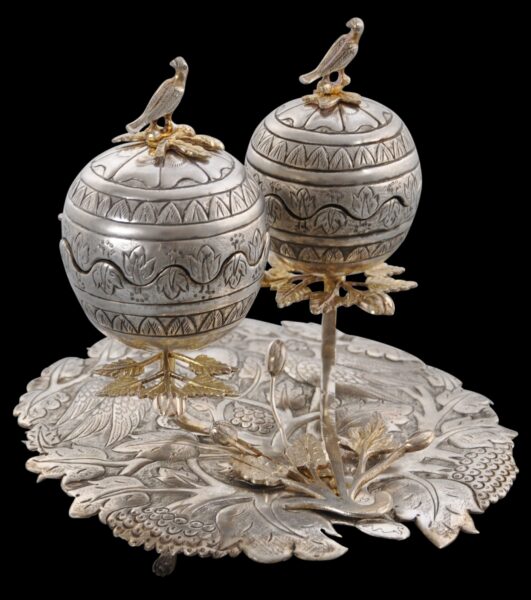 8468
Enquiry about object: 8468
Ottoman Parcel-Gilt Silver Double Inkwell
Ottoman Empire, probably Turkey circa 1820
height: approximately 14cm, width: 15.5cm, depth: 16.7cm, weight: 356g
This type of silver inkwell for the desk became fashionable in Turkey and elsewhere in the Ottoman empire in the early 19th century.
Two inkwells with hinged lids rise from a base decorated with leaved and flower buds, both chased to the base plate and in cast and chased, three-dimensional form.
These have been gilded to provide a pleasing contrast with the silver.
The inkwell covers have finials in the form of birds resting atop gilded foliage.
The inkwells retain traces of ink inside.
The silver is not marked, suggesting that the set was made in a provincial location away from Istanbul.
Kurkman (1996, p. 188) illustrates a double inkwell set of similar conception. That example is marked with the tugra for Sultan Mahmud II meaning that it was assayed during that Sultans rule, 1808-1839.
the set here is in excellent condition.
References
Kurkman, G., Ottoman Silver Marks, Mathusalem Publications, 1996.