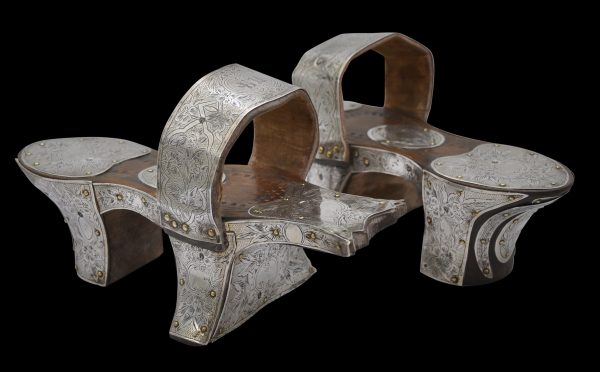 3589
Enquiry about object: 3589
Ottoman Armenian Woman's Wooden Stilted Clogs (Qabqab) with Engraved Silver Mounts
Armenian People, Ottoman Turkey 19th century
length: 24cm, height: 12.5cm
Provenance
from the collection of the family of John Lee, Baron Lee of Trafford, Bowdon Old Hall, Cheshire, UK. The family of Lord Lee has occupied Bowdon Old Hall since 1919 and the clogs formed part of the contents of the house. The wife of Baron Lee is of Armenian descent.
Each of this pair of woman's clogs (qabqab or nalin) comprises two high platforms, a sole and a raised upper strap of silver sheet lined with velvet padding.
Each is carved from a single piece of wood (possibly olive wood) and decorated with solid silver sheet secured with small brass pins. The silver has been engraved with rococo-like floral scrollwork against a cross-hatched background. Small traces of gilding (gold-plating) remain.
Each of the upper bands that cross the front of the feet has been engraved with Armenian letters which almost certainly stand for the initials of the lady for whom the clogs were first made.
That part of the wood which is exposed on the soles has been further decorated with incised markings and inlaid with brass strips.
Each sheet of silver has been stamped with silver assay marks, and the silver bands on each of the upper straps is additionally impressed with a crisp tugra mark – the mark of the Ottoman sultan – thereby verifying the silver purity, which is particularly high grade.
Such clogs were designed for a wealthy woman so that when worn she would be elevated above a wet and dirty floor. Walking, however, required the assistance of an attendant, and the higher the clog, then the more attendants who would be needed, so particularly high clogs became status symbols. Their Arabic name – qabqab – derives from the sound they made when they were being used.
See Kok (2007, p. 76) for a related pair also clad in silver in Istanbul's Sadberk Hanim Museum.
The pair here is in very good condition. There are no losses to the silver and no repairs. Several of the brass pins are deficient however but this is minor and easily remedied.
The last two images show a pair of a pair of qabqab in the British Museum which are of wood but inlaid with mother-of-pearl; and such clogs being worn.
References
Koc, A., et al,  Istanbul: The City and the Sultan, Nieuwe Kerk, 2007.