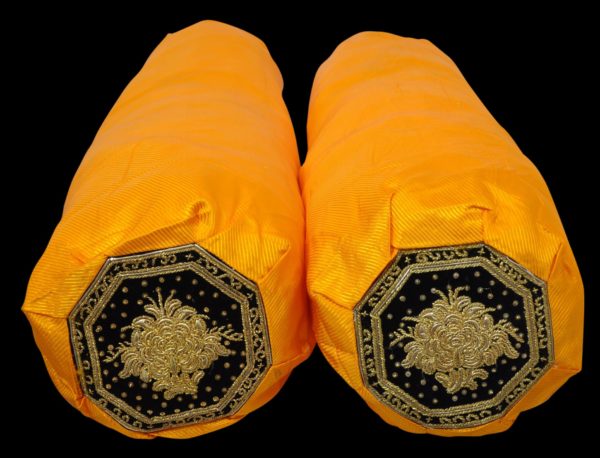 5312
Enquiry about object: 5312
Pair of Yellow Satin Malay Wedding Bed Bolster Covers each with a Pair Bolster-End Tekat Panels with Gold Thread
Malay People, Malay Peninsula, Malaysia circa 1920
length of each bolster when filled: 100cm, diameter of each tekat panel: 15cm
Reserved
Provenance
collected by Alwyn Sidney Haynes (1878-1963), and thence by descent. Haynes was a colonial administrator in Malaya and the Straits Settlements between 1901 and 1934. He held many posts including Acting British Resident, Pahang (1924); British Resident, Perak (1925); British Advisor, Kedah (1925); British Advisor, Kelantan (1930); and Acting Colonial Administrator, Straits Settlements (1933), after which he retired and returned to England, and lived near Stratford-upon-Avon, and then in Leamington Spa. Haynes loaned some of the items he collected in Malaya to the Pitt Rivers Museum in Oxford in 1939. He was awarded an Order of the British Empire (OBE) in 1950.
– scroll down to see further images –
This pair of yellow satin bolster covers retain their original tekat embroidered panels at each of their ends.
The panels feature palmette motifs in gold thread and gold spangles against dark backgrounds. Such covers were stuffed with padding such as kapok and were used to decorate the traditional Malay wedding bed. (A photograph taken in February 2017 of such a wedding bed, in Malaysia's National Museum in Kuala Lumper, appears below.)
Yellow is the colour of royalty in Malay culture, so possibly, this pair was intended for the wedding chamber of a member of one of the Malay royal families. (A related pair is in the UK Royal Collection and was presented to King George V by the Sultan of Perak in 1901.)
Tekat is the Malay name given to the technique of decorating textile panels (usually velvet) with thickly applied gold thread decoration. When the thread is applied by couching, the technique is then known as tekat timbul or tekat suji.
The covers and tekat panels are in pristine condition and are unlikely to have ever been used. The have come from the estate of a colonial administrator who served in the Malay Peninsula in the 1920s and were probably acquired when they were new. They have been in the UK ever since.
(Please note that the he covers shown here have been lightly filled for the purposes of the photographs but the filling will be removed for shipping purposes.)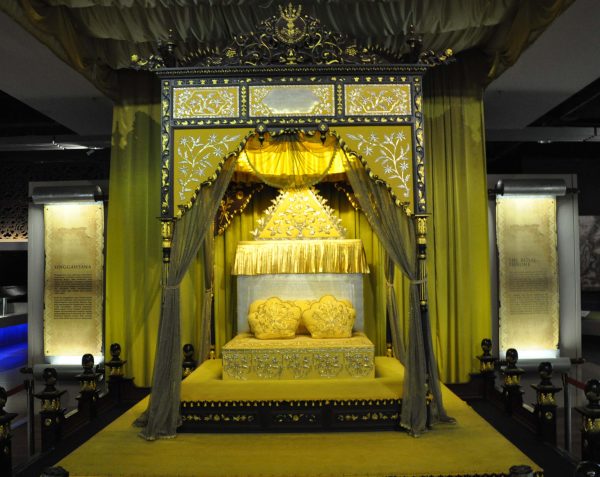 References
Ismail, M.S.Z., et al., Muzium Tekstil Negara/National Textile Museum, Department of Museums Malaysia, 2012.
Uda, Y.M.R.D.P. Fuziah Raja Tun et al., Tradition & Continuity: Woven and Decorated Textiles of the Malay Peninsula, Islamic Arts Museum Malaysia, 2013.