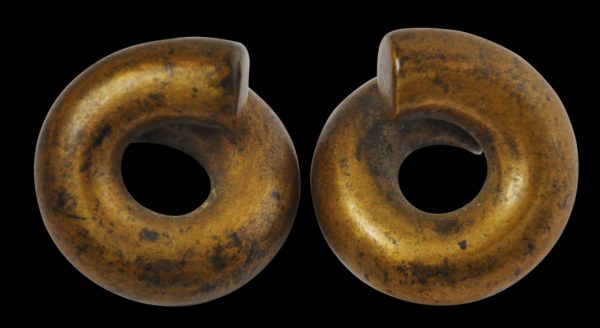 3944
Enquiry about object: 3944
Pair of Borneo Man's Solid Brass Spiral Ear Ornaments
Kenyah/Kayan Dayak People, Sarawak, Borneo 19th century
diameter: 2cm, combined weight: 72g
Provenance
Acquired in the UK, from the estate collection of Dr George Yuille Caldwell (1924-2016). Dr Caldwell, an English-born physician moved to Singapore in the 1950s, from where he built up a collection of mostly Borneo-related textiles and other ethnographica.
Ear ornaments of brass were signs of prestige and power. This pair of Kenyah Dayak solid cast brass ornaments of spiral form meant for a man weigh about 36 grams each and as such are both ear pendants and weights, designed to help stretch the earlobes to exaggerated lengths.
They also have a superb smoothness and dark-golden patina that has come from years of handling and wear.
Earrings of this size and weight would have been reserved for a person of significant prestige.
A related, single ear pendant of spiral form is illustrated in Hoeket al(2004, p. 228).
The examples here are in fine condition, and have a good 'feel' in the hand from age and wear.
References
Brinkgreve, F., & D.J. Stuart-Fox (eds), Living with Indonesian Art: The Frits Liefkes Collection, Rijksmuseum Volkenkunde, 2013.
Hoek, C., et al, Ethnic Jewellery: From Africa, Asia and Pacific Islands, Pepin Press, 2004.
Richter, A., The Jewelry of Southeast Asia, Thames & Hudson, 2000.
Rodgers, S., Power and Gold: Jewelry from Indonesia, Malaysia and the Philippines, The Barbier-Mueller Museum, Geneva, 3rd ed. 1995.