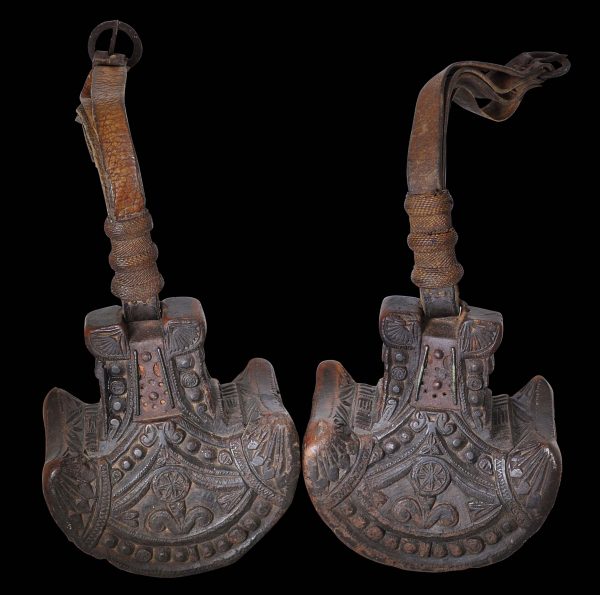 5038
Enquiry about object: 5038
Pair of Colonial Carved Wooden, Iron & Leather Stirrups
Mexico or Chile 18th-19th century
height of wooden section of each stirrup: 25cm, width: 22cm, depth: 15.5cm, length of leather strap: 38cm
This fine pair of large, carved wooden stirrups is from 18th century Mexico in the literature but also might be from early 19th century Chile. Each is carved in high relief with geometric and other motifs. The carvings on their fronts are the best examples of such carving that we have seen.
Both are also fitted with iron mounts and heavy, thick leather straps. The straps have been bound over the iron loop to affix them to the stirrups with fine plait-work, this itself having the most splendid patina.
The reverse of each has a cavity into which the front of the foot would sit.
A related pair is illustrated in Stone (1961, p. 586).
Overall, this pair of stirrups has excellent sculptural quality. Both, including all their elements, have an excellent, golden patina.
References
Stone, G.C., A Glossary of the Construction, Decoration and Use of Arms and Armor in all Countries and in all Times, first published in 1934, Jack Brussel, 1961.