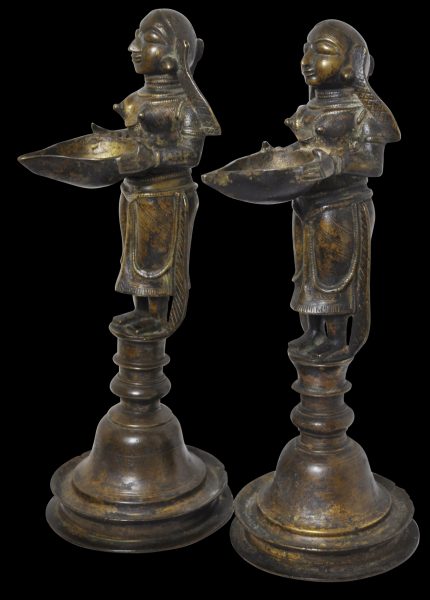 4833
Enquiry about object: 4833
Pair of Cast Brass Lakshmi Dipa Lamps
South India 17th-18th century
heights: 35cm & 34.5cm
– scroll down to see further images –
Each of this pair of puja or prayer lamps has been cast in the form of a celestial female attendant, identifiable with Lakshmi, the goddess of light and wealth. Each holds a tear or leaf-shaped oil well or wick pan. Importantly, the wells are deep and so will hold a significant quantity of oil so that the lamps will burn for quite some time. This is consistent with the Hindu precept of akhanda jyot – that a lamp offered to a deity should burn without interruption. (The offering of lit lamps to deities is one of the nine essential Brahmanic forms of worship.)
Donating lamps to a temple is also considered a sacred act which confers merit on the owner. Usually such a gift will be accompanied by a stipend for the ongoing purchase of ghee or oil to be used to fuel the lamps.
The lamps have been cast in two sections – the deity and the base, with the deity part screwing into the base but clockwise in the 18th century Indian manner rather than anti-clockwise in the European manner.
The deity wears a long dhoti with side ribbons. Her hair is pulled back in a sharp manner and falls in a long plait down her back to her waist. She wears prominent conical earrings. She has a smiling, benevolent disposition.
The drip trays that comprise part of the base are typical of 18th century lamps (and earlier) and help date the pair.
Each has a superb patina with ample signs of use and wear. Both are sculptural, sit evenly, and are usable.
References
Anderson, S., Flames of Devotion: Oil Lamps from South and Southeast Asia and the Himalayas, UCLA Fowler Museum of Cultural History, 2006.
Kelkar, D.G., Lamps of India, Publications Division, Ministry of Information and Broadcasting, India, 1961.
Nagaswamy, R., Timeless Delight: South Indian Bronzes in the Collection of the Sarabhai Foundation, Sarabhai Foundation, 2006. :UK art market