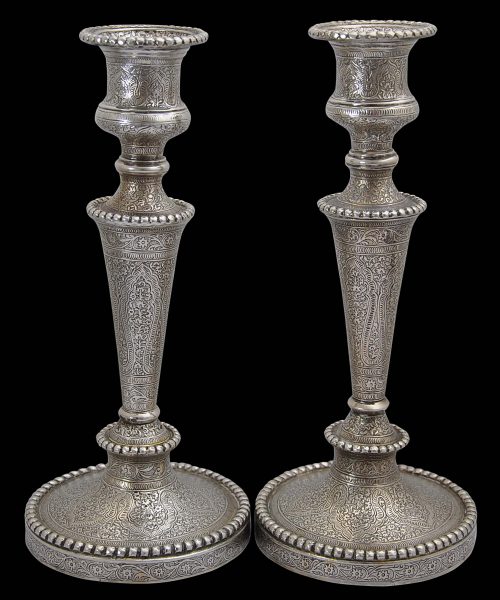 3249
Enquiry about object: 3249
Pair of Colonial Indian Kashmir Silver Candlesticks
Kashmir, India circa 1860
heights: 23.2cm, diameter of base: 10cm, combined weights: 1,313g
Provenance
private collection, London.
– scroll down to see further images –
This very handsome pair of silver baluster-form candle holders or candlesticks are from Kashmir in India's north, and were made in the nineteenth century for the export or colonial markets. They have prominent 'pearled' edging and are engraved all over with the coriander flower and leaf pattern amongst arabesque borders that is typical of Kashmiri silver work of the period.
The bases are filled with wood. As such, the candlesticks have a good weight and are stable and well suited for use.
Pairs of candlesticks from colonial India are seldom seen. This pair is in excellent condition. There are signs of gilding, so at one point they would gave been fully gold plated. The nozzles at the top are fully detachable allowing for easy cleaning. Overall, these are elegant, very usable and somewhat rare.
References
Dehejia, V., Delight in Design: Indian Silver for the Raj, Mapin, 2008.