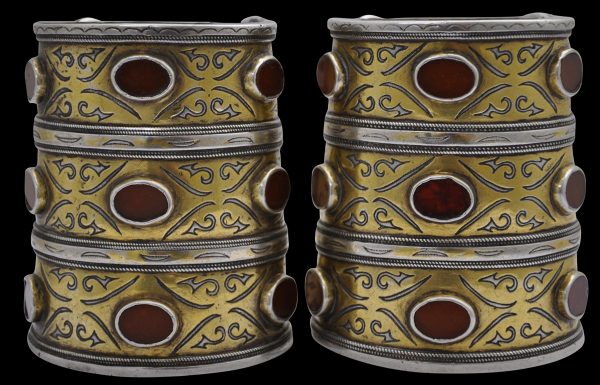 2332
Enquiry about object: 2332
Pair of Fire-Gilded Silver & Carnelian Cuff Bracelets (Bilezik)
Tekke People, Southern Turkmenistan circa 1870
height: 9.5cm, width: 6.5cm, weight: 493g
Women in the nomadic communities of what is today Turkmenistan often wore heavy, conspicuous jewellery. Girls were provided with such pieces on marriage as part of their dowry and the pieces were added to as the couple grew more affluent. This pair of cuff bracelets is an example of such jewellery.
This pair of bracelets are tapered so that they fit the contours of the wrist like cuffs. They are decorated with three bands separated by raised borders edged with pearled wire. The bands are decorated with engraved, stylised foliate motifs against a fire-gilded background. Orange-red oval carnelian (agate) plaques (one or two are near-contemporary glass replacements) are mounted in gilded silver box settings. Red carnelian was believed to protect the wearer against miscarriage and disease. Red itself was associated with happiness and fertility. There are nine such plaques on each bracelet.
The fire gilding that has been used in the bracelets is characteristic of Tekke jewellery. The process involved the application of an amalgam of mercury and gold to the surface of the silver. Heating causes the mercury to evaporate leaving a gold layer fixed to the surface. The process was extremely dangerous on account of the mercury fumes.
The bracelets are open on one side and edged with serrated, triangular elements known as 'snakes' heads' meant to symbolise life and which give the wearer further talismanic protection.
Most available Turkmen jewellery today is new. This pair however has a wonderful patina with clear wear from having been worn many times. The lozenge-shaped edging has been worn smooth from wearing. Elsewhere, the contours have been softened from use and age.
References
Masterpieces of Rijksmuseum Volkenkunde, Rijksmuseum Volkenkunde, 2013.