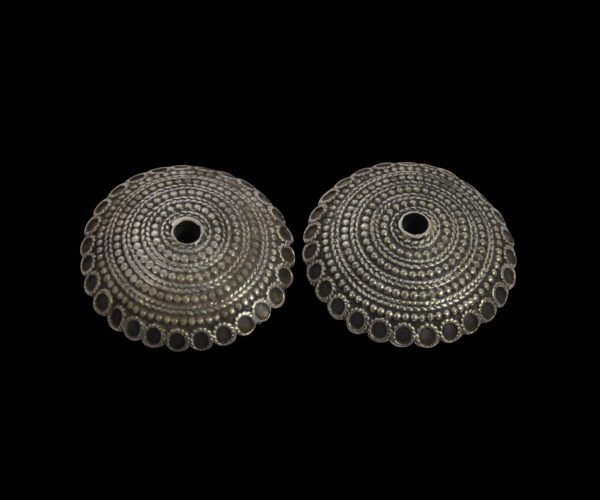 5275
Enquiry about object: 5275
Pair of Silver Ear Plugs (Bhungri), Gujarat, India, early 20th century
Gujarat, India early 20th century
diameter: 3.1cm, combined weight: 19.17g
This pair of ear plugs are are domed form are are decorated with rows of concentric punch work designed to emulate applied granulation, leading to an our border of repeated rings.
The middle of the dome comprises a round aperture which leads all the way through the post and out.
The posts themselves are quite thick: the wearer would need almost elongated lobes to accommodate the pair.
The posts screw (clockwise to open) and each is backed with a disk of not-quite-matching concentric circle decoration.
For an interesting comparison, a related gold pair are illustrated in Seligman & Balakrishnan (2017, p. 94).
The pair here are in fine condition and are without losses or repairs. They have clear age.
References
Seligman, T., & U. R. Balakrishnan, Enduring Splendor: Jewelry of India's Thar Desert, Fowler Museum at UCLA, 2017.