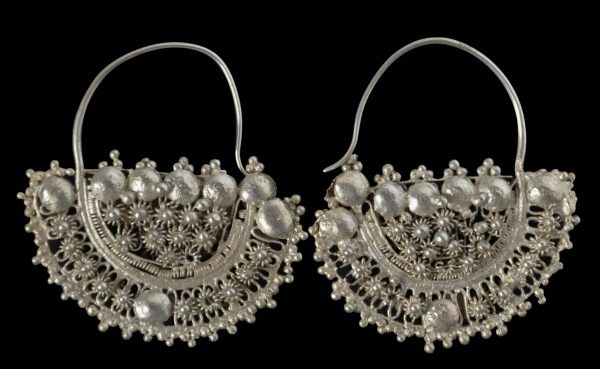 4969
Enquiry about object: 4969
Pair of Indian Silver Earrings (Balti Bali)
Kashmir & Jammu, Northern India early 20th century
width: 3.2cm: combined wight: 13.12g
Provenance
Collection of the late Paul Walter, New York, probably acquired in London.
This pair of fine silver earrings is from the Ladakh area of northern India. Known locally as balti bali, they comprise silver filigree work together with applied spangles and granulation.
They have a crescent shape suggestive of Islamic influence.
The pair are in a fine, wearable condition.
References
Ganguly, W., Earrings: Ornamental Identity and Beauty in India, B.R. Publishing Corporation, 2007.