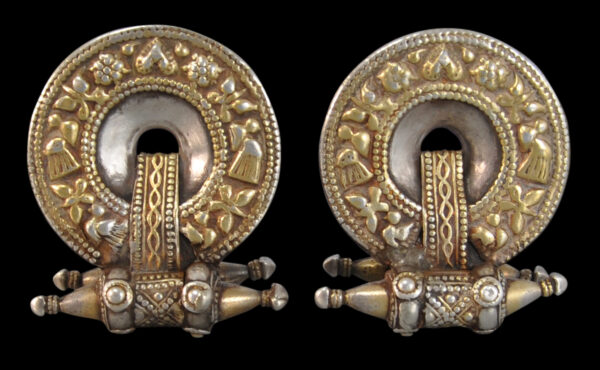 6930
Enquiry about object: 6930
Pair of Indian Silver & Gold Woman's Ear Ornaments (Akota)
Saurashtra Peninsula, Gujarat, India early 20th century
width (individually): 5.2cm, height: 6.2cm, depth: 3.1cm, combined weight: 83g
Provenance
private European collection
This pair of ear plugs is of silver overlaid in part with gold is further decorated with stylised bird, butterfly and other animal motifs.
Ear plugs of this type were worn in Gujarat by Ahir, Rabari, Bharwad, and Mer women. Ganguly (2007, p. 71) says they were also worn in Kutch, who adds that they are 'one of the most striking ear ornaments in all of India'. Their use had died out by the mid-20th century.
They were worn as plugs in large holes in stretched ear lobes.
Similars pair are illustrated in Hoek (2004, p. 138), Daalder (2009, p. 321), and Untracht (1997, p. 222).
The pair here is particularly attractive – the use of gold with silver provides a pleasing contrast. They have clear age and patina. There are no losses or repairs. They are of good weight.
References
Daalder, T., Ethnic Jewellery and Adornment: Australia, Oceania, Asia, Africa, Ethnic Art Press/Macmillan, 2009.
Ganguly, W., Earrings: Ornamental Identity and Beauty in India, B.R. Publishing Corporation, 2007.
Hoek, C., et al, Ethnic Jewellery: From Africa, Asia and Pacific Islands, Pepin Press, 2004.
Nadler, D. & S., Silver: From Fetish to Fashion, PDN Publishing, 2005.
Untracht, O., Traditional Jewelry of India, Thames & Hudson, 1997.